The central bank relaxes further the loan-repayment policy for all the sectors to expedite Bangladesh's economic recovery from the fallout of Covid-19 pandemic.
Under the relaxed stance, the borrowers will get a fresh chance to remain unclassified if they repay minimum 15 per cent instead of previously-set 25 per cent of the total outstanding amount of loans for the whole calendar year by December 31 (today), according to a notification issued by the Bangladesh Bank (BB) on Thursday night.
The BB issued the latest directive just a couple of hours after its meeting with the country's top business leaders at the central bank headquarters in Dhaka with BB governor Fazle Kabir in the chair.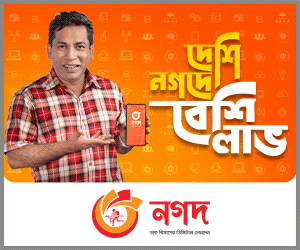 The banks are allowed to transfer interest earnings from such loans into their income accounts, it says.
Earlier on Wednesday, the central bank provided similar policy support to the cottage, micro, small and medium enterprises (CMSMEs) on the same grounds.
As per the instructions, all the scheduled banks will have to keep an additional 2.00-per cent special general provisioning against the loans of all sectors, save the CMSMEs.
For the CMSMEs, the banks will have to maintain an additional 1.50- per cent special general provisioning, down from the existing 2.0 per cent.
The remaining 85 per cent of the outstanding credits during the period from January to December 31 this year will be payable within one year from the date of expiry of the loan tenure, according to officials.
"We've relaxed the loan-repayment policy further to help borrowers who are trying to keep their loan portfolios unclassified," a top central banker told the FE while explaining the main objective the notification.
At the meeting with business leaders, different issues, including extended limit and tenure of export development fund (EDF), were discussed.
The central banker also says the BB may take final decisions after examining the issues considering the facilitation of country's business activities.
Led by president of the Federation of Bangladesh Chambers of Commerce and Industry (FBCCI) Md Jashim Uddin, the delegation included FBCCI senior vice-president Mostofa Azad Chowdhury Babu, vice presidents Aminul Hoque Shamim, Amin Helaly, Salahuddin Alamgir, Habib Ullah Dawn, and M A Razzak Khan. Also present were Bangladesh Garment Manufacturers and Exporters' Association (BGMEA) president Faruque Hassan, Bangladesh Knitwear Manufacturers and Exporters Association (BKMEA) president A K M Selim Osman, MP, Bangladesh Chamber of Industries president Anwar-Ul-Alam Chowdhury, Real Estate and Housing Association of Bangladesh (REHAB) president Alamgir Shamsul Alamin (Kajal), National Association of Small and Cottage Industries of Bangladesh (NASCIB) president Mirza Nurul Ghani Shovon, Bangladesh Engineering Shilpa Malik Samity president Abdur Razzaque, Bangladesh Plastic Goods Manufacturers and Exporters Association president Samim Ahmed, Metropolitan Chamber of Commerce and Industry, Dhaka (MCCI) senior vice president Kamran T Rahman, and BKMEA executive president Mohammad Hatem.