The government is set to project the GDP growth rate for the fiscal year 2021 at 8.2 per cent, pinning its hope mainly on possible surge in domestic demand, powered by consumption and investment, officials said.
The projected growth rate, which will be announced in the budget speech of the next fiscal year, is equivalent to the current fiscal year's original estimate.
The real gross domestic product growth rate for this current fiscal year, however, is likely to contract between 5.25 and 5.35 per cent, according to the finance division.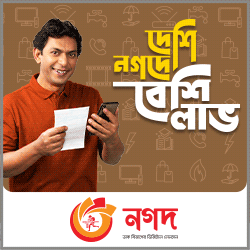 Officials familiar with the development at the ministry of finance told the FE that they were hopeful that normal economic activities will pick up speed from October as the pandemic could lose its strength then.
They assumed there will be accelerated economic activities from the second quarter of the next FY, which will help spur growth.
A senior finance official said on Saturday that the Asian Development Bank and the International Monetary Fund had also projected robust growth for Bangladesh for the next fiscal year.
"All sectors will start reviving from October next," said the official at the finance division.
He said the service sector, which was battered by the coronavirus outbreak, will see a boom.
He expected the agriculture sector, which has a solid foundation, to maintain the same trend in the next fiscal year.
He said the main driver of the growth will be domestic demand and the budget will have many stimulus packages to boost it through increased consumption and investment.
Bangladesh raises its budget size every year with a view to showing higher GDP growth in real terms. But the actual expenditure of the budget remains less than 80 per cent or below.
It is expected the nominal GDP will grow by around 13 per cent in the next fiscal as inflation rate has been estimated at 5.4 per cent.
The IMF, however, has projected Bangladesh's GDP will expand at 9.5 per cent in FY 2021.
The ADB, in its latest outlook, said the economy of Bangladesh will expand at 8.0 per cent in FY 2021.
But the World Bank, in its latest forecast, said the GDP growth rate will hover at 2.0-3.0 per cent this fiscal year.
It also predicted a more contraction for the next fiscal at best 2.9 per cent.
The country's GDP has been growing consistently at a very high rate in the last decade.
The government wanted to achieve a growth rate of 10 per cent by FY2023-24, and maintain that rate until 2041 so that a solid foundation for achieving a developed country status can be established.