Remittance inflow to Bangladesh dived further in November as money transfers through byways like hundi might have gathered speeds with the easing of pandemic restrictions worldwide.
The money sent home by Bangladeshis working abroad amounted to $1.55 billion in November 2021, down by 5.66 per cent or $93.17 million from the previous month's level, according to the central bank's latest statistics.
In October, the remittances amounted to $ 1.65 billion. It was $2.08 billion in November 2020.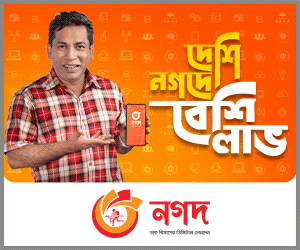 The official figures also show that the inward flow of remittance dropped by nearly 21 per cent to $8.61 billion during the July-November period of the current fiscal year (FY), 2021-22, from $ 10.89 billion in the same period of the previous fiscal.
Talking to the FE, a BB senior official said the flow of inward remittance dropped significantly during the period under review compared to the same period of last fiscal year.
"But the inflow of remittance remained almost stable considering pre-Covid-19 period," the central banker said while explaining the latest trend in inward remittance.
Bangladesh received $1.55 billion as remittance in November 2019, the BB data showed.
Currently, 29 exchange houses are operating across the globe, setting up nearly 1500 drawing arrangements abroad, to expedite the remittance inflow, according to the central banker.
Market operators, however, say higher gap between formal banking channel exchange rate of the US dollar against the Bangladesh Taka (BDT) and kerb market encouraged illegal hundi activities in recent months.
Currently, there is a gap of around Tk 5.0 between the exchange rate of cash dollar on the open market, known as kerb market, and telegraphic transfer (TT) clean rate for remitters.
The banks offered an average rate of Tk 84.85 to the remitters for TT on Wednesday, according to the daily report of Bangladesh Foreign Exchange Dealers' Association (BAFEDA).
On the other hand, the US currency traded at around Tk 90 on the kerb market on the day as the demand for the greenback has gone up recently.
"The authorities concerned should take effective measures to minimize such exchange-rate gap that will help revamp inflow of remittance," a senior official of a leading private commercial bank (PCB) told the FE.
The private banker also predicts that the existing falling trend of inward remittance may continue in the near future if the hundi operations persist.
The central bank had earlier taken a series of measures to encourage the expatriate Bangladeshis to send their hard-earned money through the formal banking channel, instead of the illegal 'hundi' system, in order to help boost the country's foreign-exchange reserves.
Bangladesh's foreign-exchange reserves, as on the day, amounted to $44.88 billion, and financial experts say the reserves would feel pressure from falling remittance inflow.