Agriculturists at a post-rally discussion in Rangpur have said Bangladesh has achieved revolutionary success in the agriculture, fishery and livestock sectors.
They came up with the observation at the discussion organised by Rangpur unit of Krishibid Institution Bangladesh (KIB) at its temporary office on Tuesday afternoon to observe the Krishibid Day-2018.
Earlier, the agriculturists brought out a rally from the Seed Certification Agency office to the Bangabandhu Square and placed wreaths at the mural of Bangabandhu there before gathering at its temporary office.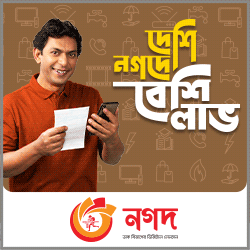 Presided over by acting president of Rangpur unit of KIB Agriculturist Dr Zillur Rahman, agriculturists of different government and non-government departments, organisations, institutes and agencies attended the discussion.
Local Zila Parishad chairman and president of the district unit of Mohila Awami League Advocate Chhafia Khanom attended the discussion as chief guest.
President of the district unit of Bangabandhu Krishi Parishad Agriculturist Ali Azam addressed the occasion as special guest.
Regional Additional Director of the Department of Agriculture Extension (DAE) Agriculturist Md Shah Alam, Agriculturist Dr Kalidas Debnath, Joint Director of BADC Agriculturist Md Delwar Hossain, Regional Seed Certification Officer Agriculturist Shawkat Ali, Deputy Director of DAE Agriculturist Md Moniruzzaman, Divisional Deputy Director of the Fisheries Department Agriculturist Sheikh Mesbahul Haque, among others, addressed.
Agriculturist Md Moniruzzaman narrated the pro-farmer policy of the present government led by Prime Minister Sheikh Hasina and laudable role and contributions of the agriculturists in developing the agriculture sector.
Agriculturist Ali Azam recalled the contribution of Father of the Nation Bangabandhu Sheikh Mujibur Rahman to alleviating the status of agriculturists to class one officers on February, 1973.
Agriculturist Dr Kalidas Debnath said the agriculturists are committed to increasing agriculture productions to make the country completely self-reliant in crop output for ensuring its food security, reports BSS.
The chief guest said the pro-farmers' polices of the present government is inspiring the agriculturists and farmers in contributing maximum to achieving a sustainable national food security through increasing agricultural production.