Planning Minister M A Mannan on Thursday said the projected 8.2 per cent economic growth would be achieved in this fiscal year (FY), 2020-21, as the economy would rebound at a higher pace than earlier just after the Covid-19 outbreak.
"We have not revised our GDP growth target downward from 8.2 per cent. It means that we are trying to avoid the coronavirus impact. We think the economy will restart at double or triple pace just after the pandemic," he said while speaking at the Sustainable Development Goals (SDG) progress report sharing programme in Dhaka.
The General Economics Division (GED), Bangladesh Planning Commission, organised the function for journalists.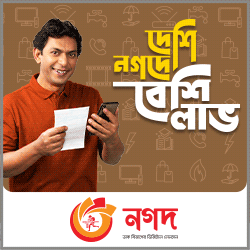 GED Member Dr Shamsul Alam presented the second SDG progress report in a function at the commission in Dhaka.
The first SDG progress report was unveiled in 2018.
According to the second progress report, most of the indicators among the 17 SDGs are on track for achievement by 2030. However, progresses on a few targets under different goals are on a weak trajectory.
Among the weak progresses, Bangladesh is facing the challenge in inequality; obesity and nutrition of the children under five years; death rates in heart, cancer, diabetic and lung-related diseases; primary dependency on clean energy and technology; value addition ratio to the high-tech industries; and lower reporting rate of gender violence by the women.
On the other hand, Bangladesh's progress in poverty reduction, cutting hunger, gender parity, water and sanitation, decent works and economic growth, education development, and adequate consumption and production etc. are on track, the SDG progress report indicated.
Dr Shamsul Alam said the Covid-19 pandemic was not considered (in the SDG report), as no data was available on its impact on different goals.
He added that data availability is a big challenge for Bangladesh in attaining the SDGs.
Echoing the same, the planning minister said they do not want to see lack of data in Bangladesh.
M A Mannan directed the Bangladesh Bureau of Statistics (BBS) to develop adequate data on the SDG indicators for better assessment of the country's position in this regard.
He said cultural difficulties are a setback for development of the country.
"Under the law of the country, our pressure against corruption will continue," he added.
UNDP's Resident Representative in Bangladesh Sudeepto Mukharjee said Bangladesh's challenges are the best use of ongoing public investments and of future investments too.
The urban people are more vulnerable to poverty than the rural people at this moment, which the government should look after, he added.
Chief SDG Coordinator in the Prime Minister's Office Zuena Aziz, Planning Secretary Asadul Islam, and Foreign Secretary Masud Bin Momen also spoke on the occasion.