Bangladesh on Tuesday signed a financing agreement with the International Fund for Agricultural Development (IFAD) to sustainably improve incomes and promote resilience to extreme weather conditions for 0.33 million rural households in six flood-prone districts in northern Bangladesh.
Economic Relations Division Secretary Kazi Shofiqul Azam and IFAD President Gilbert Foussoun Houngbo signed the USD 92.30-million agreement on behalf of their respective sides.
Prime Minister Sheikh Hasina witnessed the signing ceremony that took place at the IFAD Headquarters.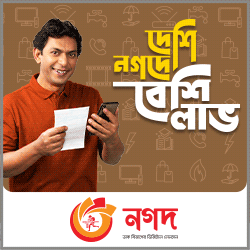 According to the agreement titled 'Promoting Resilience of Vulnerable through access to Infrastructure, Improved Skills and Information', IFAD will give USD 63.25 million at very concessional rate where there will be a grant of USD 1.25 million. The rest of the money will come from the internal source of the Bangladesh government.
The six-year long project, launched this year, will be implemented in Panchagarh, Dinajpur, Nilphamari, Rangpur, Gaibandha and Jamalpur districts.
While briefing reporters, Foreign Secretary M Shahidul Haque said a number of people of 3.30 lakh people of these six districts will directly be benefitted with this project.
The project money will be used for the development of villages, their infrastructures as well as the development of rural markets.
The project aims to improve rural peoples' resilience in 25 flood-prone upazilas, or townships, through building weatherproofed infrastructure, creating off-farm employment opportunities, and strengthening communities' ability to adapt to climate change related risks.
The project will put in place an early warning system managed by the communities themselves, with the scope of scaling up this technique to other communities outside the target area.
According to an IFAD statement, Prime Minister Sheikh Hasina said, "We hope and pray that in continuing such a partnership, IFAD will play an important role because its model of mutual help and partnership is very different from that of other UN agencies and organisations."
Earlier, Prime Minister Sheikh Hasina had a bilateral meeting with IFAD President Gilbert Foussoun Houngbo at its headquarters.
Foreign Secretary M Shahidul Haque said they discussed various issues regarding further strengthening cooperation of IFAD for the development of Bangladesh's agriculture and infrastructure.
Besides, the Rohingya issue came up for discussion at the meeting.
Shahidul Haque said Gilbert Foussoun Houngbo appreciated the dynamic leadership of Prime Minister Sheikh Hasina and highlighted Bangladesh's huge potential.
Bangladesh Ambassador to Italy Abdus Sobhan Sikder and Prime Minister's Additional Press Secretary Nazrul Islam were present.
Since 1978, IFAD has financed 32 rural development programmes and projects in Bangladesh, investing $781.7 million or $2.02 billion when co-financing is included. These projects and programmes have benefitted over 11 million rural households.
"The high incidence of poverty in the project area is due to seasonal flooding, inadequate rural infrastructure, low agricultural productivity, and limited livelihood opportunities outside farming," said Benoit Thierry, IFAD Country Programme Manager for Bangladesh, reports UNB.
"The rural population faces challenges in accessing services and markets. The situation is aggravated by seasonal outmigration, often leaving women to look after their families and land. Together with the Government, we're addressing these challenges," he added.