Trade and investment summit ends with $1.16b investment potential
Bangladesh to consider SEZ for the footwear industry, commerce secretary informs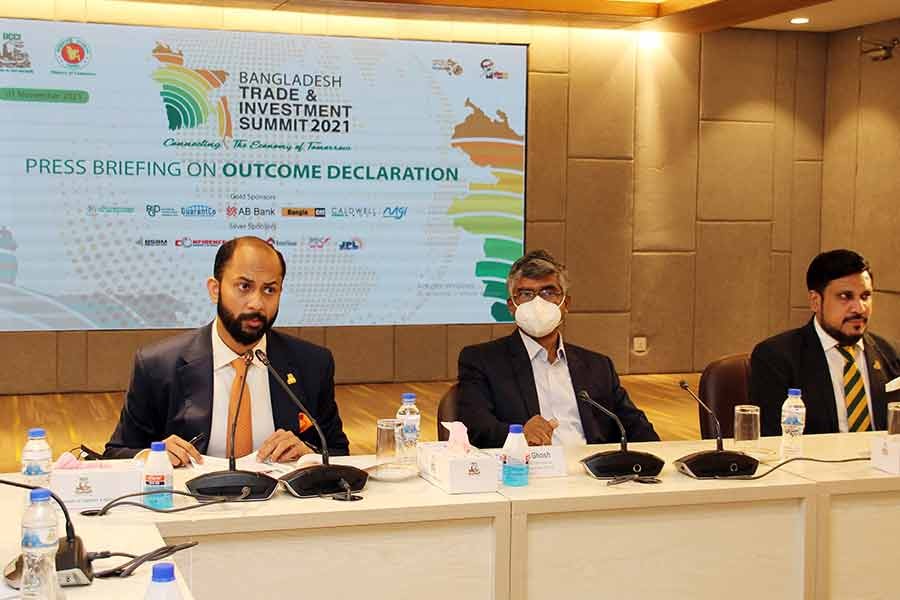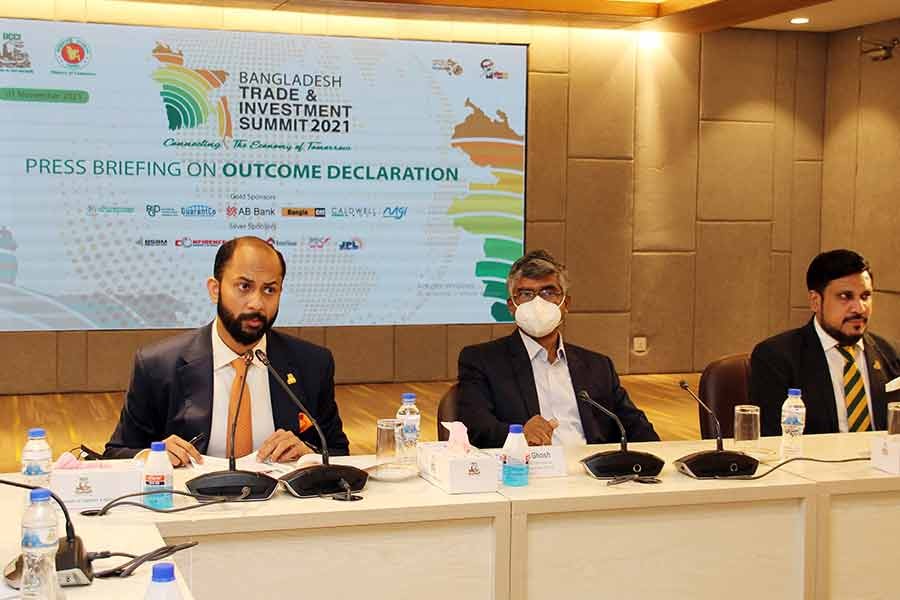 Seven-day Bangladesh Trade and Investment Summit 2021 has brought a promise of $1.16 billion investment from foreign companies for Bangladesh.
"We received a promise from the foreign participants in the summit that there will be investment, business or trade of $1.16 billion," Dhaka Chamber of Commerce and Industry (DCCI) President Rizwan Rahman said at a press conference on Monday.
The press conference was arranged at the DCCI auditorium to disseminate the outcome report of the seven-day "Bangladesh Trade and Investment Summit 2021", jointly organised by the Ministry of Commerce and DCCI from October 26 to November 1.
"The summit and DCCI inspired the foreign participants to make the commitment for investment by ensuring that Bangladesh does have a sustainable environment for investment, he mentioned.
In the outcome report of the seven-day summit, the DCCI president informed that 552 local and foreign companies from 38 countries attended 369 business to business (B2B) sessions where the potential investment interest size was USD1.16 billion.
The DCCI president said 20 companies from 13 countries showed their interest to do joint ventures.
He said 26 products have been identified as potential for export from Bangladesh during the summit.
"There were few sectors like infrastructure, pharmaceuticals, baby bottle, umbrella, agro and food processing and IT from 5 countries that showed their interest for direct investment in Bangladesh," he added.
Power, energy, renewable energy, dairy products, FMCG, RMG, leather, automobile and jute are some of the sectors that have foreign investment opportunities.
He also said that speakers at different sessions underscored the need for improving ease of doing business, policy reforms, technology adaptation, skill development, fiscal and non-fiscal incentives, strong economic diplomacy and signing FTA or PTA with potential trading partners.
"Bangladesh has the ability to grab the huge opportunity from African, Asia and Pacific and Middle Eastern countries in terms of inward or outward investments," he continued.
"The country needs to go for PTA or FTA with other major trading partners," he suggested.
Rizwan Rahman stressed market resource mobilisation and tariff rationalisation, pointing out that the summit showcased Bangladesh's large consumer market.
Commerce Secretary Tapan Kanti Ghosh was also present at the press conference. He informed that the government is considering setting up a special economic zone (SEZ) for further booming foreign and local investment in the country's footwear industry and ensuring a sustainable business environment in the country.
The commerce secretary said that the government is also considering replication of the RMG model in other export-oriented sectors.
"But, there are some issues to be addressed before going for the implications," he said.
He also echoed the others' opinion of allowing the bond facilities to make other export-oriented industries competitive like the RMG sector.
Replying to questions from the journalists, the commerce secretary said that after LDC graduation, Bangladesh may need to sign FTA or PTA with potential trading partners like EU countries, UK, Canada, Japan, and Australia etc.
"But averaging duty structure on both sides is a critical thing before signing FTA. But the government of Bangladesh is working on this matter. For FTA, a drastic duty cut is not possible as it may hamper internal revenue generation and local manufacturers but it may be considered gradually," he added.
He said the government is trying to bring all its major services for instance land registration, mutation, company registration in joint-stock companies under automation that will ease the process simplification in near future.