Speakers have put emphasis on long-term infrastructure investment plan and more use of inland waterways to reduce container jam in Chittagong port.
Dhaka Chamber of Commerce and Industry (DCCI) organised a discussion programme titled "Inland Waterways: Reshaping Connectivity and Creating Economic Opportunities" at a hotel in Gulshan on Tuesday, reports UNB.
DCCI President Abul Kasem Khan said, "Now the time has come to make a policy for using inland waterways. The aim of the policy should be long-term infrastructure development by giving importance to both government and private sector investment. All the stakeholders have to work together."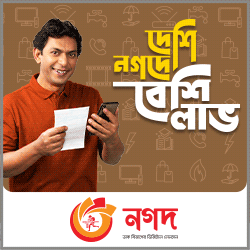 He said that one third of containers with imported and exported goods are transferred through land route. As a result, not only transport costs are increasing but container jam continues.
Prime Minister's Economic Affairs Advisor Dr Moshiur Rahman was present as chief guest while Awami League Parliamentary Party Secretary Noor-E-Alam Chowdhury MP was present at the programme.
Presenting the keynote paper, the coordinator of the national framework committee of Dhaka Chamber, Yasser Rizvi, conducted the panel and open discussion while former DCCI President Hossain Khalad, businessmen an top government officials were also present.
Speakers said, "Bangladesh is fully dependent on road transport. All types of commodities are being transported through land route. Though there are many rivers and railways in the country, those are not being used properly. In this case, the government has to take initiative."
PM's Economic Advisor Mashiur Rahman said that currently economic growth is more than 7.0 per cent and if improvement can made to all sea, river and land ports as well skilled human resources are developed, the growth trend can be increased up to per cent.
He specially emphasised on improving the infrastructure of all sea, river and land ports.
While speaking as the special guest, Nur-e-Alam Chowdhury said, "The government has already improved different facilities in Payra, Mongla and Pangaon ports, which no other government has done before. Currently goods are being export through Paira port."
He also said that the government is creating opportunities for the businessmen.