The Income Tax Fair 2017 in the capital drew a huge number of visitors on Friday, the third day of the weeklong event, as it was a public holiday.
Most of the people visiting the fair on the day were service-holders and businessmen, who could not come on other working days.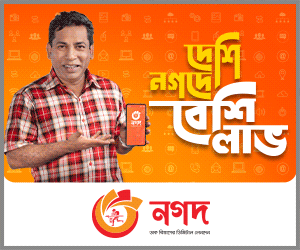 Zakir Talukder, a publisher of Banglabazar, was seen filling up tax forms.
Talking to the FE correspondent, he said he has never paid tax before, and this is his first visit to the fair.
"I came here for the first time to pay tax. Paying tax is a national duty. Besides, I want to pay tax, as the taxpayers get many benefits, which other non-taxpayer citizens do not get," he added.
The National Board of Revenue (NBR) collected Tk 2.33 billion income tax from the countrywide income tax fair on the third day, up by 2.78 per cent than that of the same day in the previous year.
Some 39,672 taxpayers submitted their income tax returns in the fairs, compared to 24,864 taxpayers on the same day last year.
The tax fair, which kicked off on Wednesday, drew attention of a large number of individual taxpayers in the last two days also.
The number of visitors grew by 59.56 per cent, as some 1,64,220 individuals availed different types of services from the tax fair on Thursday.
Besides, many prospective taxpayers and common visitors also visited the fair.
Hasibul Islam, a student of Mohammadpur Residential Model School, said he came to the fair along with his five friends to see what is happening at the programme.
The main attraction of the tax fair is Tax Identity Card that the NBR is providing upon submission of tax returns in Dhaka, Chittagong and Sylhet.
The fair remained open on Friday from 10.00 am to 5.00 pm with a one-hour recess from 1.00 pm to 2.00 pm for Jum'a prayers.
The weeklong Income Tax Fair kicked off in the capital and other parts of the country on Wednesday with a revenue collection target of more than Tk 30 billion.
In the fair the taxpayers are able to pay taxes through Sonali Bank and Janata Bank, while potential taxpayers will get electronically generated taxpayer identification numbers (e-TIN).
Besides, separate booths are providing tax-related assistance to women, physically challenged people, elderly citizens and freedom-fighters. There are also booths to help taxpayers file returns online.
NBR has been holding the fair since 2010 to motivate people to pay taxes and create a tax payment culture in a country, where less than 1.0 percent of the total population submits returns regularly.
Since the introduction, popularity of the event has been on rise, as it helps taxpayers to receive assistance, submit returns and complete all tax-related procedures in a single spot without visiting the tax offices.
Within November 7, NBR will arrange Income Tax Fair for four days in 56 upazilas, for two days in 34 upazilas, and for one day (mobile) in 71 upazilas, which will remain open from 10.00 am to 5.00 pm.
The tax authority will also organise Tax Week from November 24 to 30 at its field-offices, so that the taxpayers can complete their tax-related formalities ahead of the November 30 deadline for submitting income tax returns.