Travelling deep into the woods of the Sundarbans
Taking a short break from our busy working hours, this writer travelled the Sundarbans, the world's largest mangrove forest, with a group of sixteen. A three-day trip took us into the deep woodlands, native river basins, beaches, islands, and a world of fauna and flora. The writer would love to share this experience. Let's begin with the journey.
The journey by boat
It was an eight-hour-long journey by road and felt tiring initially, but when we arrived at the Pashur river bank and rode on a local boat, our tiredness vanished. It took us to the main transport, a launch, where the host travel agency welcomed us with chill fresh fruit juices.
And then our journey through the forest began with the launch. It had all the modern facilities. There were electricity, air conditioners and washrooms with good facilities. The small double-bed rooms were so organised that you'd hardly miss your bedroom back home.
The wooden Trail in Karamjal
The boat started moving slowly towards the Sundarbans, with a gentle breeze soothing our souls. The Rampal power plant came into sight for a while. Watching the sunrise and sunset, the reddish-orange sky, made us wonder what we miss daily in the morning inside our four walls at Dhaka.
We had our site visits prescheduled. We visited Katka beach, Kochikhali, Hiron Point, Harbaria Eco Park, Koromjol, and Egg Island and had silent trips by local boats along the canals and creeks.
Katka beach
Day two began at 7 am. Walking along the coastal forest, we reached Katka, also known as Jamtala sea beach. Walking on the beach was not easy. There were thousands of tree roots, thorny, washed away by the tide's waves. It remains fully submerged during the rainy seasons.
The Kotka is said to be the area of the Royal Bengal Tigers. Even our timing was suitable for tigers to visit. We went into the jungle in flocks to have a glimpse of the 'king of the Sunderban', only to be disappointed. We had to be satisfied listening to the guide's stories of sighting a tiger and watching their footprints.
Katka sea beach's another popular attraction is deer. While the 'Bagh mama' didn't pay a visit, we saw many beautiful Chitra deers. Then we found out why Katka is also called Jamtala. The beach had hundreds of Jam trees of different sizes. There is also a watch tower where crab-made accessories are sold. The area is famous for red crabs.
Golpata is actually not 'gol'
Katka beach is secluded and clean, though not suitable for bathing under the scorching hit of the sun. Sitting in the woods, we had deshi guava and plum fruits along with chilli flakes and salts, something we don't do in city life.
Mini trips inside the whole trip
The silent boat trips were amazing. These traditional boat trips through the canals are the best to feel the wildlife closely. Watching birds flying high, Kingfishers waiting for prey, monkeys jumping on tree branches, and colourful butterflies are all you can ask for. The Golpata plants on both banks of the canals and their reflection on the water created unworldly beauty. We also found numerous plants we never saw before.
We spent three nights on the launch with comfort. Sleeping on a floating boat with gentle movement is beyond satisfying.
The food
And when we returned to our launch after walking the whole day, fresh and cold coconut water and chilled papaya juice welcomed us, along with crispy Singara and Muri Makha.
A satisfying menu
Main courses included delicious beef, mutton, fried Paisa fish, BBQ chicken or Cobra fish etc. The extra peppery dry chilli with smashed onions and mustard oil trapped us into non-stop eating. And the vegetables were on another level.
Egg island and Harbaria Eco Park
Egg island is a calm and quiet place because people barely visit there. It has got the name for its egg-like shape. We collected hundreds of sea shells of different colours and shapes there. The best part is that this place is suitable for taking a dip, and we took the chance.
The group had a different experience while visiting Harbaria Eco Park. A silent and pleasant walk along the walkway with monkeys and pigs roaming around fearlessly felt good. A group of monkeys almost snatched the camera of our photographer. The tussle between the photographer and the monkey created laughter. However, the watch tower there is not that high as the tall trees around almost eclipse the view.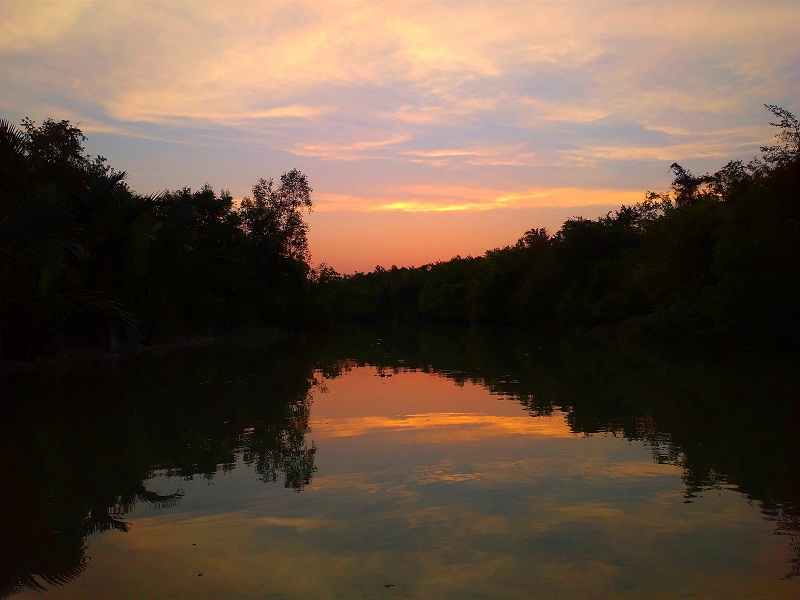 Canals and creeks in Sundarban
I forgot to mention our 72 hours without cell phones. It happened as we were entering deep into the woods. All networks were lost, and suddenly, it felt like we were living in some primitive age. However, life without a smartphone didn't feel bad at all. Each of us got ourselves back to our childhood while gossiping, playing 'Antakshari', 'ludo', and 'cards' as these were the only ways of passing our leisure. When we started a ghost stories session, it hit hard amid a scary silence floating over a launch at midnight.
Meeting the crocodiles
Our journey ended by watching crocodile breeding in Karamjal, located on the banks of the Pashur river and close to the Mongla seaport. It was like a zoo. It is the only natural crocodile breeding centre. Warning! There is a terrible smell there. We saw a crocodile named Romeo whose partner Juliet died a few years back. There is a long wooden trail in Karamjal, which is also a tourist attraction.
There were more places to visit in Sundarban, like the Dublar Char, Hiron Point, Mandarbaria beach and others. But as our duties kept calling us back, we had to remain calm, thinking that we'd visit those places the next time we went to Sundarban.
The heavenly beauty and charm of the Sundarbans are beyond any praise. One can only feel it, living there. The priceless silence, transparent water, different shades of a morning sky, the rawness of nature, meaningless gossip and pastimes without technology -- all these combined make Sundarban tour fulfilling.