Bagan Bilash - an element for art, hobby and fashion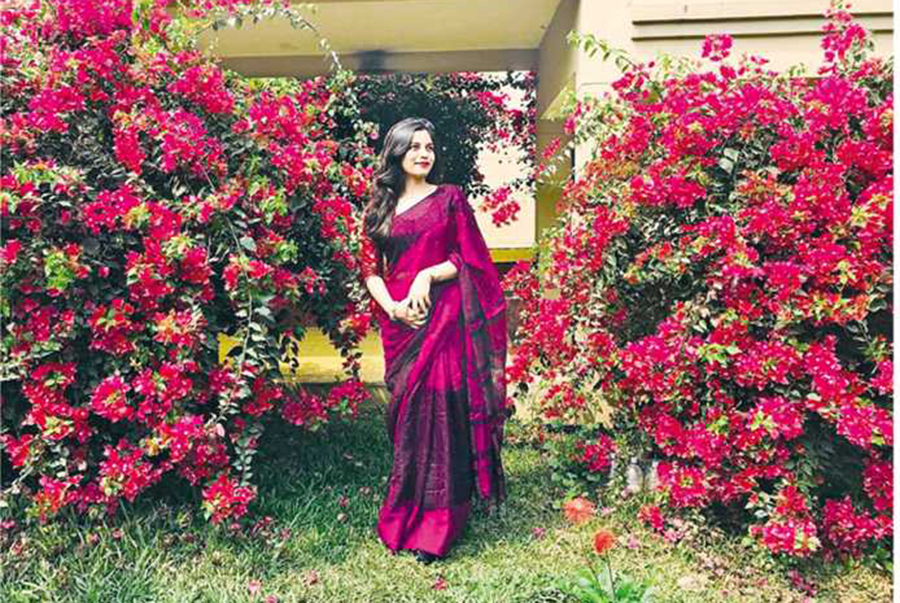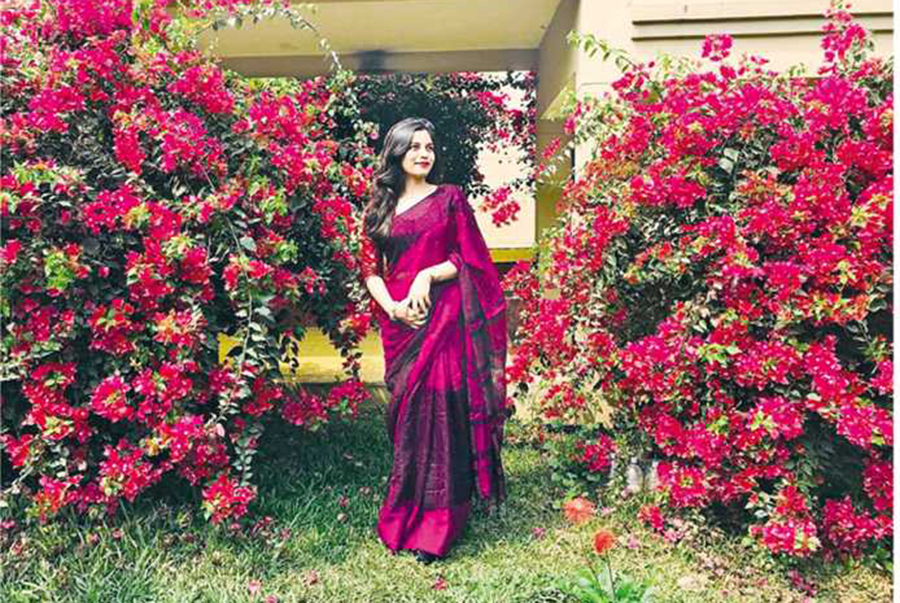 Bagan Bilash has gained popularity worldwide with its spectacularly colourful petals and paper-thin bracts surrounded by a tiny and white-coloured cluster of flowers. This elegant and captivating flowering plant is adored in Bangladesh.
History and origin
Looking at the abundance here, don't be fooled into thinking Bagan Bilash is a local flower. This colourful flower is native to South America. It originates from Brazil but has spread worldwide as a garden plant, initiating from Brazil's neighbouring countries Peru and Argentina and gradually to other regions of the globe.
Bougainvillea is named after the 18th-century French admiral and explorer Louis-Antoine Comte de Bougainvillea. He discovered this plant in the forests of Brazil.
When Bougainvillea was first brought to the Indian subcontinent, it was used only to adorn the homes of the country's elite class.
Bagan Bilash and other names
Once, Rabindranath Tagore visited the house of a luxurious and aristocratic man who had Bougainvillea. Tagore was mesmerised by the colour of the flower, but the name Bougainvillea did not satisfy his ears. So, the Nobel laureate mixed the sweetness of his poetic mind and named this flower 'Bagan Bilash.' Rabindranath had his reasons behind the indigenous name of this exotic flower plant. The name gives a sophisticated vibe as it only used to be present in the elites' homes.
In Bangladesh, the flower is also called paper because of the similarities between the petals and coloured paper. Majenda, hot pink, red, yellow, orange, white even hybrid Bagan Bilashes are grown here. Since it is a creeping juniper, it adorns the gates of houses and is widely called 'gateful' (a flower that decorates gates) in our country.
Use and views
Bagan Bilash was the most common flowering plant in gates, balconies or rooftop gardens in the past century. However, it is still seen on the gates. The tree can be seen on almost every road in Dhaka and all-around Bangladesh. Many gardeners try to fit the 8-20 feet tree in their balconies. Bonsai of this plant is also available.
Bagan Bilash has gained a remarkable fanbase recently thanks to the photography craze on social media. Capturing aesthetic photos, making reels, videos, poetries - this plat offers all.
The beautiful flower has found its way into fashion as well. You can find them in sarees, salwar kameezes, jewellery, masks, orna, etc. Even for eye-catching photography, this plant tops the list of preferences as photo backgrounds. The writer has talked to several online shops specialising in Bagan Bilash designs on their products.
The Malachite Casket
'The Malachite Casket', run by Auntora Mehrukh Azad and Anannya Mehpar Azad, is a Dhaka-based online store famous for hand-painted sarees, lehengas, and kameezes. Their main constituents are blossoms of different seasons, which they turn into excellent designs with heart-felt brush strokes. They work with cherry blossoms, lilies, roses, lotus, tulips, and other flowers and use muslin or tissue as fabrics.
Their floral women's wears have a huge demand for mehendi and wedding events. Among all these, the Bagan Bilash sarees were the most hyped.
"We always felt grateful that we have turned our passion into profession. It is always a pleasure to see our clients draped in our painted attire specially on their big days."
Painting a saree is challenging. From the primary sketch to the prototype, Malachite does everything in their studio, taking enough time to develop a design that reflects floral softness.
Depending on the design, painting a saree from the sketch might take even two weeks or more. Bagan Bilash comes in different colours in the Malachite Casket products - yellow, pink, blue, etc.
Tasmias Craftopia
Tasmia's Craftopia is a Feni-based online store. She produces apparel for men and women, mostly using hand painting or crafting. The young entrepreneur started her journey in 2017. She has been experimenting with hand painting for the past four years. Her words reflect her passion for painting and gardening, "I get immense pleasure from observing trees and flowers, so my work is about them."
She sets floral designs on fabrics like tissue, muslin and cotton. She makes sarees, salwar kameezes, panjabis, baby dresses, etc. However, Bagan Bilash design is her masterpiece.
Is it boring to paint the same flower over and again? Tasmia says, "If we draw for the pleasure of our mind, we don't do one thing repeatedly; but from the business perspective, we have to work prioritising the customer's choice."
"I have done Bagan Bilash repetitively as it is in trend now, but techniques, textures and fabrics have always been different. On the other hand, this is a unique flower and one of my favourites."
Manob
Mazbaul Hasan Arnob, an entrepreneur and the owner of Manob - an online platform that produces handmade crafts and ornaments, has always been into art and craft, theatre, and photography. However, he couldn't study those subjects due to family situations. Later, he started Manob alongside his other works and chose floral items. With such beautiful renditions of lovable elements, Manob quickly became people's favourite.
About Bagan Bilash ornaments, Arnob said to the scribe, "Bagan Bilash is one of the most well-known and preferred flowers. Floral jewelry are made in an effort to always keep the favorite flower with you."
"First we collect the flowers and flatten the petals. The moisture from the petals is dried within next two to four days. Once dried, we turn it into a necklace, ring or key ring with the help of resin."
Noya
Jesmin Akter Nishi had a keen interest in handicrafts since childhood and wished to do something based on it. And in January 2021, she set out to catch that dream with Noya.
She was so careful about each step of her dream journey that finding a suitable and unique Bengali name for her venture took months.
"Bagan Bilash is one of the best-selling products of Noya. It took 2-3 months of experiments to finally develop a product comprising petals, resins and beads. This type of pendants is very comfortable and fancy for casual wear." Nishi added.
Bagan Bilash as hobby
Jannatun Nahar Ankan, working at a national news agency, is a Bagan Bilash freak. Learning from her mother, she has grown into a passionate gardener who has mainly flower plants in her garden. Remembering her early days, when she used to bring Sandhyamalti seeds from school, Ankan said,
"I was searching for Bagan Bilash for a long time. Since it's costly, I somehow managed a cutting without knowing its colour. After almost a year, I saw a bud in yellow."
"I was so happy getting a Bagan Bilash of my own," Ankan continued to praise, "It is an elegant flower. Just one tree can change the a of the garden regardless of colour."
A development professional from Dhaka, Naila Fahmin Rasha, stops by whenever she passes any Bagan Bilash. "It is because you cannot ignore its beauty. Just standing before a bunch of Bagan Bilash will offer picture-perfect frame," she remarked delightfully.
Anika Tasnim, currently pursuing a Master's at McGill University, likes clicking pictures. It's always a jolly yes from her when it comes to posing before Bagan Bilash.
Imran khan is a young journalist, passionate about clicking pictures. He often captures Bagan Bilash while roaming the Dhaka streets. His photographs are a testament to the fact that Bagan Bilash is still popular for decorating gates.
A resident from Barishal, Golam Salake Promit, too clicks Bagan Bilash photos in city streets, befittingly proving why it is called 'gateful'.
Bagan Bilash's beauty in every colour in every season brings life to the lifeless cities. In the corner of the balcony or in front of the door, it can change one's mood instantly. Be it as clothing, jewellery or home decor, the Brazillian Bougainvillea will be there for a long time as our favourite Bagan Bilash.