JHENIDAH, Oct 22: A total of 25 public auditoriums in Jhenidah established by the Department of Social Services (DSS) for training of rural women have been left abandoned for over two decades, only to suffer decay and gradual ruination.
According to the sources in district DSS, Jhenidah, 25 buildings were built in between 1981 and 1984 for pertaining various kinds of training to village women under four upazilas of the district.
Among them, 15 were constructed in Kotchandpur upazila, four in Moheshpur, and three in Harinakundu and Shailkupa upazilas each.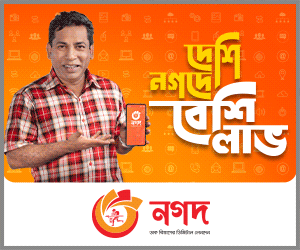 Most of the tin-shed buildings have land areas of 15-16 decimals of area of their own. People donated the pieces of land as they thought their sacrifice would facilitate various trainings for the village women enabling them to earn some money.
Under a project titled 'Pally Matri Prashikkhonkendra', for 4-5 years, impoverished girls and women of the villages in the upazilas were given training.
The trainees were also provided with easy-term loans to earn money for themselves from what they were taught there.
Besides making some dresses for their family members, many of the girls and women were engaged in doing needlework for their neighbours as well.
The women who took training from these centres were able to contribute to their hard-up families financially, easing pressure on their husbands.
It is noted that some of the centres attained much popularity. A market has been named after a public auditorium of the type in Kotchandpur upazila. The market is known as 'Samaj Kallyan Bazar'.
However, the project tenure being over, the buildings have remained abandoned since then. Once vibrant, most of the establishments have now turned to be safe havens for insects and mice.
Besides, two of the training centres have suffered unauthorised occupations in Kotchandpur upazila.
UP member of Fulbari village under Boluhar union of Kotchandpur upazila Robiul Islam told this correspondent that he can actively recall a memory of 25 years ago. He had seen trainers DSS giving training to rural girls at that time.
"The girls were benefited from the training and would be engaged in some needle-work. However, the girls of the present generation even do not know why the public building on 16.5 decimals of land was designed to do", Robiul added.
But two families are living beside Fulbari training centre now. A woman Momotaz Khatun with her family is living at one side of the building while Alauddin is on the other side.
While contacted, district social services officer (in-charge) Mohammad Mominur Rahman told the FE, "If the public auditoriums of the district could be used as training centres again, young girls and women would be amply benefited", adding that "various types of training programmes befitting the age are available for them now-a-days."