Around 60,000 families have been marooned in seven northern districts where flood situation further deteriorated on Monday despite the rate of onrushing water from the upstream reduced in the Brahmaputra basin.
Officials of Bangladesh Water Development Board (BWDB) said the major rivers were flowing above danger marks (DM) at 10 points of Nilphamari, Lalmonirhat, Kurigram, Gaibandha, Jamalpur, Bogra and Sirajganj districts in the basin at 9 am today.
Water level of the Teesta marked a fall by 13cm during the past 24 hours ending at 9:00am and was flowing 2cm above its DM at Teesta Barrage Project (TBP) point in Dimla upazila of Nilphamari district at 9 am today.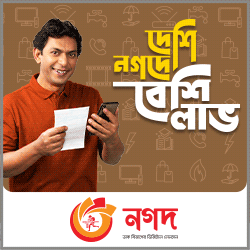 "Following further fall in its water level by 10cm in the last six hours, the Teesta was flowing 8cm below its DM at Dalia point at 3 pm today," Executive Engineer of the TBP Division of BWDB M Rabiul Islam said.
As a result of reduction in the rate of onrushing water from the upstream during the past 24 hours, water levels in the major rivers continued rising at lower rate and might continue to flow above their respective DMs during the next 24 hours.
The Brahmaputra was flowing 64cm above its DM at Noonkhawa and 77cm at Chilmari and Dharla by 76cm at Kurigram points in Kurigram and Ghaghot by 35cm above the DM at Gaibandha points at 9 am today.
The Jamuna was flowing 78cm above the DM at Fulchhari in Gaibandha, 80cm at Bahadurabad in Jamalpur, 58cm at Sariakandi in Bogura, 58cm at Kazipur and 28cm at Sirajganj points in Sirajganj districts at 9 am.
Talking to BSS, Chief Engineer for Rangpur Zone of BWDB Jyoti Prosad Ghosh today said the flood situation in Lalmonirhat and Nilphamari may improve with recession of water levels of the Teesta and Dharla in the next 24 hours.
Meanwhile, the government has launched relief operations as the current spate of deluge exposed thousands of people to sufferings following inundation of vast low-lying areas in the affected districts in the upper Brahmaputra basin.
District Relief and Rehabilitation Officer (DRRO) for Kurigram Dilip Kumar Saha said 302 tonnes of rice and Taka 36.50 lakh have already been allocated for the flood-affected people of the district where 66,000 people of 16,100 families have been marooned so far.
Dimla Upazila Nirbahi Officer Joyoshree Rani Roy said Nilphamari district administration has allocated 125 tonnes of rice and Taka 1.50 lakh for distribution among 3,200 flood-affected people of Dimla upazila in the district.
"We have already distributed 46 tonnes of rice and dry foods among flood-hit people as the process is continuing," she said, adding that the Teesta has eroded houses of 69 families in the only affected upazila of Nilphamari district.
DRRO for Rangpur ATM Akhteruzzaman said the government allocated 60 tonnes of rice and two lakh Taka yesterday to face the flood situation in the district where no flood situation has so far been created anywhere in all eight upazilas.
Additional Divisional Commissioner (General) Md. Zakir Hossain said the district administrations with BWDB and other authorities concerned have taken steps to conduct relief activities in the flood-affected districts and face the deluge situation, reports BSS.