Young people in Bangladesh are substantially more likely to be aware of climate change than older people, says a new international survey by UNICEF and Gallup released ahead of World Children's Day.
Over 90 per cent of the Bangladeshi children and youth who were aware of the issue also agree on the need for their government to act boldly now.
The findings come from the poll 'The Changing Childhood Project'. The first of its kind poll asked multiple generations for their views on the world and what it is like to be a child today. The poll surveyed more than 21,000 people across two age cohorts (15-24 years old and 40 years old and up) in 21 countries, across all regions and income levels, including Bangladesh.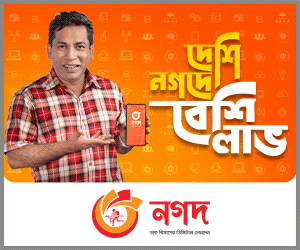 "The voices of Bangladeshi young people on climate action are loud and clear. Young people in Bangladesh are aware of the consequences of climate change, and are more adamant than ever that more needs to be done," said Sheldon Yett, UNICEF Representative to Bangladesh.
"Their views on the world might differ on some aspects from their peers in other countries, but their vision is the same: the need to act now for a better future," Sheldon said.
The survey shows that children and young people are nearly 50 per cent more likely than older people to believe that the world is becoming a better place with each generation, and that childhood has improved, with overwhelming majorities believing that healthcare, education, and physical safety are better for today's children than for their parents' generation.
Yet, despite their optimism, young people are far from naïve, expressing restlessness for action on climate change, scepticism about the information they consume on social media, and struggling with feelings of depression and anxiety. They are far more likely than older people to see themselves as global citizens, and more likely to embrace international cooperation to tackle threats like the COVID-19 pandemic.
"There is no shortage of reasons for pessimism in the world today: Climate change, the pandemic, poverty and inequality, rising distrust, and growing nationalism. But here is a reason for optimism: Children and young people refuse to see the world through the bleak lens of adults," said UNICEF Executive Director Henrietta Fore.
"Compared to older generations, the world's young people remain hopeful, much more global minded, and determined to make the world a better place. Today's young people have concerns for the future but see themselves as part of the solution," Fore said.
Bangladesh has the second-lowest share of young people among the surveyed countries, believing that it's very important for political leaders to listen to children.
"The views of young people matter. The survey makes clear that we need to carve out more space for them to speak up, to voice their concerns, to share their aspirations," added Mr Yett.
Key findings on Bangladeshi young people's views on the world and how these compare with views of their peers from the other surveyed countries:
Among those who are aware of climate change, Bangladesh is one of the countries with the most young people (91 per cent) eager for government to take significant climate action along with Nigeria (94 per cent) and Zimbabwe (91 per cent). On average, nearly three-quarters of young people who are aware of climate change believe governments should take significant action to address it.
Bangladesh has the second-lowest share of young people believing that it's very important for political leaders to listen to children.

Bangladesh is amongst the top four countries where young people believe children will be better off economically than their parents. On the other hand, young people in high-income countries have little faith in economic progress.

81 per cent of young people believe education has gotten better over the past generation, placing Bangladesh amongst the top five countries.

19 per cent of Bangladeshi young people report often feeling worried and nervous, and 14 per cent say they often feel depressed or have little interest in doing things.

Young people in Bangladesh are less trusting than older people of national government, scientists, religious organisations and national media as sources of accurate information.

More than twice as many young people report using the internet daily than older people, ranking Bangladesh third for having a significant generational difference.

Almost 75 per cent young people in Bangladesh say that treating LGBTQ+ people equally is somewhat or very important. This is higher than the average across surveyed countries where 71 per cent of young people say it is somewhat or very important to treat LGBTQ+ people equally.
"We cannot know what is on the minds of young people if we do not ask them. UNICEF's survey reinforces the importance of hearing from the next generation and understanding their perspectives," said Joe Daly, Senior Partner at Gallup.
"The children of today are the leaders of tomorrow; it is crucial for older generations to do their part to ensure our children inherit a better world," Daly added.