The cyclonic storm 'Bulbul' is gradually becoming stronger and it is likely to hit the country's coastal regions in the early hours of Sunday, said meteorologists.
The storm remained in the West Central Bay on Friday noon with an intensifying speed of 100-120 kph (kilometre per hour). It was gradually approaching towards the Northern Bay.
It is set to hit the costal parts of West Bengal of India and Bangladesh after Saturday midnight, according to the met offices of India and Bangladesh.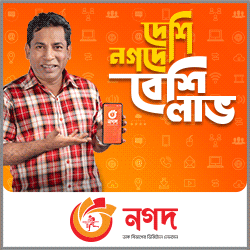 Mongla and Payra ports have been advised to keep hoisted warning signal number seven, Chattogram signal no six, and Cox's Bazar local signal no four until 8.00 pm on Friday.
Following the issuance of danger signals, authorities of Mongla, Payra and Chattogram seaports have suspended all activities to avert any untoward incident.
Rain with heavy wind started in places over Khulna, Barishal and Chattogram divisions from Friday morning due to the cyclonic effect. The capital city Dhaka also started witnessing drizzle from the noon, said the Met Office.
The Met Office, in its bulletin on Friday, said 'Bulbul' was about 620 km southwest of Chattogram Port, 645 km southwest of Cox's Bazar Port, 495 km southwest of Mongla Port, and 490 km southwest of Payra Port at 6.00 pm on the day.
It was gradually moving northwards while staying over West-central Bay and adjoining East-central Bay, intensifying into a very severe cyclonic storm over the same area.
'Bulbul' is likely to intensify further and move towards north or north-easterly direction.
Under the peripheral influence of the severe cyclonic storm, squally wind started hitting the maritime ports, North Bay and coastal areas of the country from Friday.
All fishing boats and trawlers over North Bay have been advised to remain in dock until further notice.
Sadequl Alam, an assistant director at the Bangladesh Meteorological Department, said according to the current analysis, the storm 'Bulbul' might hit Khulna region in between Saturday late-night and early hours of Sunday (later hours of November 9 and early hours of Nov 10).
It has a chance to be turned into a severe storm like 'Aila', as its speed is 100-120 kph now and it is intensifying.
Meanwhile, state minister for Disaster Management and Relief Dr Md Enamur Rahman, said cyclone shelters in seven districts are ready to reduce the intensity of damage of 'Bulbul'.
After a preparatory meeting at the Bangladesh Secretariat, he said the cyclonic storm may enter the country through its south-eastern part in between Saturday evening to midnight.
As per the current position and strength of the storm, five to seven feet tidal wave may inundate the coastal belt in south-eastern districts.
Some 56,000 volunteers are ready to bring people to the shelters and mitigate post-storm damages in seven districts - Khulna, Satkhira, Bagerhat, Barguna, Patuakhali, Pirojpur, and Bhola.
Around one thousand tourists have been stuck in Saint Martin Island in Cox's Bazar, as operation of the tourist-carrying ships from Teknaf has been stopped since Friday morning due to inclement weather.
Meanwhile, the Department of Agricultural Extension (DAE) offices in the coastal belt said apart from human and livestock, the storm might also cause severe damage to standing Aman crop and winter vegetables in the region.
Pankaj Kanti Majumder, deputy director of the DAE - Khulna, said heavy wind might severely affect standing Aman crop.
He also said only 8.0 per cent harvest has been completed out of 0.65 million hectares of land in the ten districts of Khulna division. Paddy fields, set to be harvested soon, might be smacked of by the wind.
Khulna and Jashore region farmers have cultivated winter vegetables, onion, mustard seed and lentil in above 0.14 million hectares of land this year. Heavy rain and wind might also affect these crops severely, he added.