City, long route and mini buses resumed services on Monday with 60 per cent higher fares and following some, not all, health guidelines to check the further spread of coronavirus infection.
Most companies' city buses have plied their vehicles keeping half of their seats vacant as per government instruction although long route buses have got fewer numbers of passengers against permissible seats.
Also, it was found that long route busses were devoid of any disinfectant seats and hand sanitisers during the trips.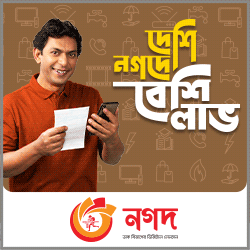 The FE, visiting through the routes of city buses, found operators were taking passengers with allowable seat arrangement.
Some operators covered their seat and marked those to be seated. They also sprayed sanitiser on the passengers before getting into the bus. But the seats were not disinfected after the passengers got down.
'We clean seats at starting and ending points, not in between,' said a helper of Trans Silva bus.
A passenger heading towards Science Laboratory from Jatrabari said he paid Tk 30 instead of TK 20 for his trip.
The bus terminals are yet to ensure the government's health guidelines. The terminal leaders blamed insufficient time for preparation as the main reason.
Mohakhali bus terminal has been working to set up three disinfection tunnels from Monday but distances among people were not followed properly. Hand washing service at the terminal was also absent.
Half of the seats of Ena Paribahan bound for Mymensign, Binimoy bound for Tangail-Kendua, Imam bound for Haluaghat and Bilash were found vacant before starting their respective journeys.
Mohammad Sadequr Rahman Hiru, senior president of Bangladesh Transport Workers Federation, alleged the government of not giving enough time to resume the bus services.
"The government instructed us to ply our vehicles giving 2/3 days to prepare. But at least seven days were required to prepare ourselves particularly making drivers and helpers conscious about the health issues," he told the FE at the terminal's office.
Mohakhali Terminal Bus Owners Association Abul Kalam Azad said many transport operators could not manage necessary disinfection equipment due to shortages of availability in the markets.
He claimed that thermal scanners and spraying machines are scarce in the market due to the rush of buying those within short notice.
Azad also said due to the limitation they have just started procuring those equipments and hoped the situation to be improved in coming days.
However, most of these buses have been operating without proper fitness of vehicles.
A bus driver of Shikor bound to Mirpur said battery of his bus has been checked and entire body was cleaned before starting.
However, he remained silent about checking Mobil and tires which are also important components to make the vehicles fit for running.