The freight train service between Chilahati in Bangladesh and Haldibari in India will resume on Sunday after 55 years of the suspension.
A Bangladesh Railway official said 30 wagons packed with stones, from New Jalpaiguri in India, will reach Chilahati station through Chilahati border of Nilphamari district in Bangladesh on the first day.
Apart from stones, oxygen and wheat can also be imported through this route, sources said.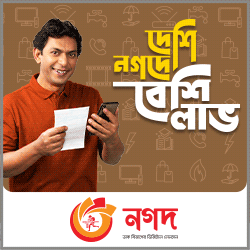 According to Bangladesh Railway (BR), a plan has been given to the Indian Railway to operate the freight train service 15 days a month.
To launch the service, the Indian Railway, meanwhile, completed the training of operating two locomotives between New Jalpaiguri, Haldibari of Cooach Bihar, and Chilahati of Nilphamari on Thursday.
Bangladesh Prime Minister Sheikh Hasina and India Prime Minister Narendra Modi inaugurated the Chilahati-Haldibari rail link during a virtual summit on December 17 last year.
India's Modi Modi also inaugurated the passenger train service 'Mitali Express' between New Jalpaiguri and Dhaka through the border when he visited Bangladesh on March 27 this year on the occasion of the celebration of the 50th Independence.
However, the passenger train service remains suspended due to deterioration of coronavirus situation.
People travelling to India's Darjeeling from Bangladesh will be the major beneficiaries of the Chilahati-Haldibari route, as it will reduce their journey by 150km in India.
When asked about the transportation of goods from the Chilahati station, the railway official said, on demand from the Bangladeshi importers, the BR will transport the goods to their desire station.
The railway line from Haldibari to Chilahati in northern Bangladesh had been defunct since rail links between India and the erstwhile East Pakistan were snapped in 1965.
With the latest rail link, the total rail links between Bangladesh and India will now be five. The other four rail links between the two countries, now in operation, are Benapole-Petrapole, Darshana-Gede, Rohanpur-Singhabad and Birol-Radhikapur. There were seven railway connections between the two countries from 1947 to 1965.
To launch the link, both Bangladeshi and Indian railways constructed and developed broad gauge lines over the last few years.