Over 1.0m people marooned in 14 districts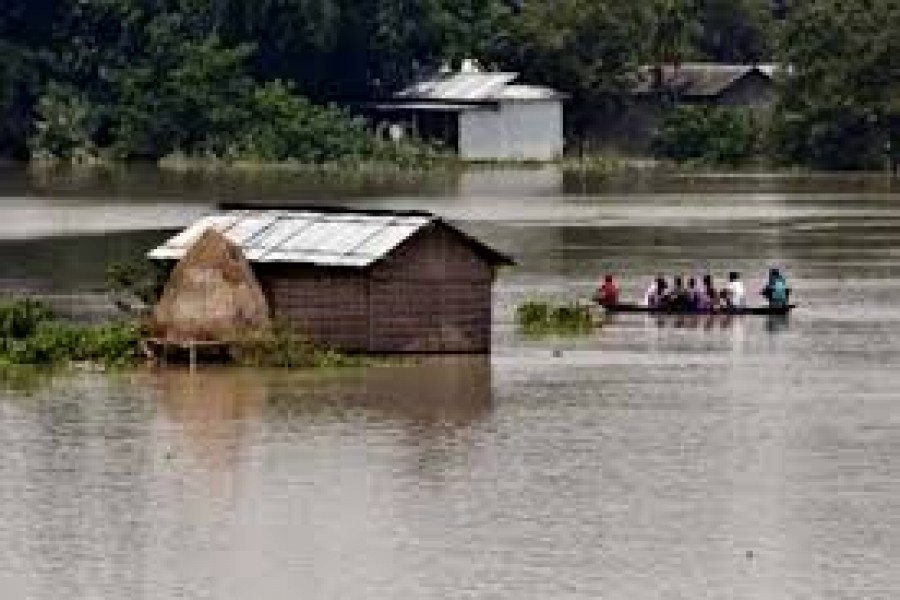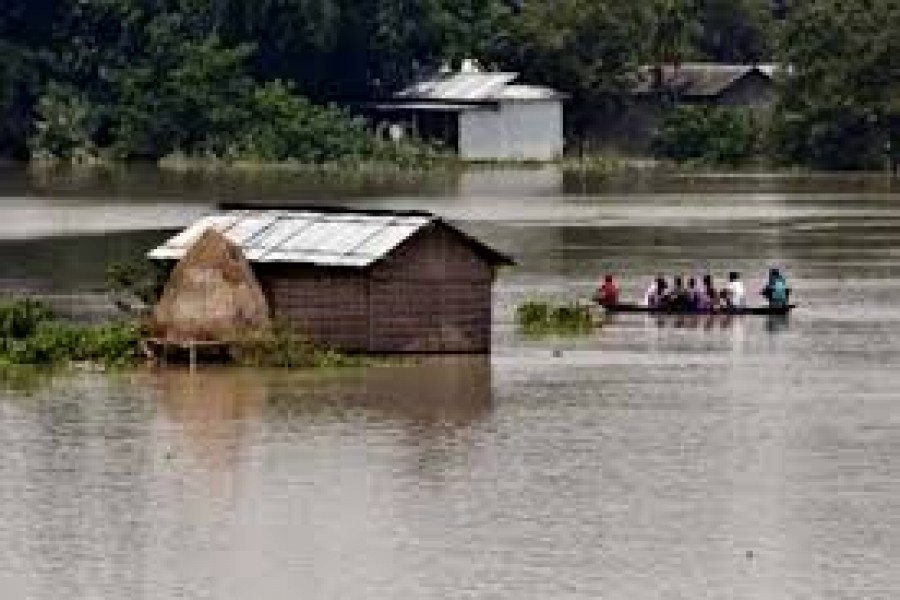 The ongoing flood, caused by rain and upstream water from India, has marooned 1.1 million people in 14 districts in a week.
Most of the flood-hit people are in need of food and necessary aids for the last few days, said insiders.
Though water level is likely to decline in some rivers in next two days, flood water in localities might stay for weeks, they said.
A total of 1.105 million people were marooned at 260 unions in Nilphamari, Lalmonirhat, Kurigram, Rangpur, Gaibandha, Sirajganj, Bogura, Tangail, Jamalpur, Rajbari, Manikganj, Madaripur, Sunamganj and Sylhet districts, according to the National Disaster Response Coordination Centre (NDRCC).
Jamalpur, Sunamganj, Tangail, Sirajganj, Gaibandha and Kurigram are the most affected districts during the one and half weeks long flood.
The Flood Forecasting and Warning Centre (FFWC) recorded that nine major rivers swelled over their respective danger levels at 17 points in the country on Saturday.
It forecasted that water might decline in the Teesta, Brahmaputra, Meghna basins.
Water level rose at 61 points and declined at 39 points on Saturday.
However, heavy rain with speedy wind likely to occur in most places across the country in next 24 hours, said Met Office.
A total of 1,200 tonnes of rice and Tk 8.3 million cash were distributed through the government agencies among the people in the districts in last ten days, according to the disaster management and relief ministry.
Nur Salam, chairman of Hatibhanga union in Dewangaj upazila under Jamalpur district, said nearly 0.1 million people are waterlogged in Dewanganj upazila for a week as the river Jamuna devoured localities.
He said 800 families of his union were marooned who have no food, water and other sanitation facilities during this pandemic.
Mr Salam said his union needs at least 10 tonnes of rice for each week while they got only 700 kgs so far.
He said affected people got Tk 5.0 per head in his locality when many of them lost their houses due to heavy flow of Jamuna.
According to the Deputy Commissioner Office of Jamalpur, a total of 0.386 million people have been marooned in 49 unions of the district.
Only 2000 packets containing dry foods and water were distributed among 88, 423 affected families in the district, according to NDRCC.
More than 0.1 million hectares of Aus, Aman seedbed, chilli and vegetable lands have also been affected by flood in the district, according to Department of Agricultural Extension (DAE).
The severity of flood are almost same in other districts, according to sources.