Dhaka city's 81km viable for circular train: Study
A feasibility study has found an 81-kilometre route viable for circular train in the periphery of Dhaka city, estimating $8.0 billion for construction.
Sources said the route would be part of the government's planned circular route that covers both circular road and waterway.
"It won't be conflicting with other mass transport projects, including metro rails and subways," said an official involved in the study.
The Dhaka Circular Rail Line (DCRL) has been proposed alongside the ongoing transport-related projects-four mass rapid transit (MRT) lines and two bus rapid transit (BRT) lines and subway network.
According to a feasibility study by a Chinese firm, 24 stations have been proposed to establish focusing the existing Tongi station as centre.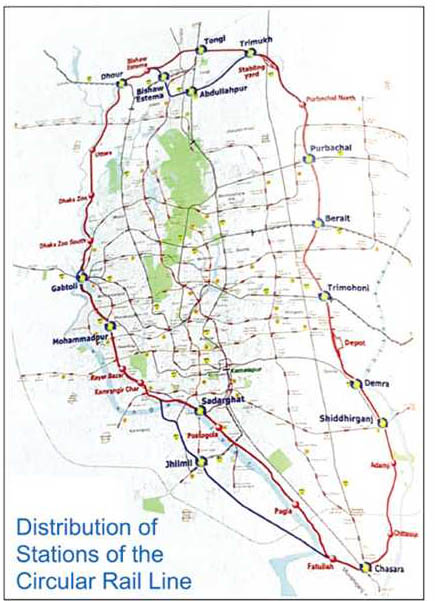 Of them, 11 stations will be used as transfer stations for having links with other modes of vehicles, including MRT, BRT and subway.
The Tongi station will head towards Trimukh, Purbachal, Berait, Trimohoni, Demra, Siddhirganj, Chasara, Jhilmil, Sadarghat, Mohammadpur, Gabtoli and Dhour.
Transfer stations been proposed at Purbachal North, Adamji, Chittaranjan, Fatullah, Pagla, Postogola, Kamrangirchar, Rayerbazar, Dhaka Zoo South, Dhaka Zoo, Uttara and Biswa Ijtema.
Of the total route, 9.9 kilometres would be underground for unavailability of surface land and the rest would be elevated.
Official sources said the Bangladesh Railway (BR) has started sharing findings of the study with ministries and agencies implementing transport projects to incorporate their last-minute observations in finalising the report.
They said all the agencies concerned gave their observations before the study, which have already been accommodated.
"Now, they will go through the final draft and give comments. Then the report will be finalised," said a competent source.
The BR is also sharing findings by holding individual meeting at every project's executing office to clear confusion among stakeholders.
However, transport experts still doubt about the need for circular train when similar rail-based mass transport services have been implemented in the capital covering all corridors and touching suburbs.
M Shamsul Hoque, a civil engineering professor at BUET, said the development of ring roads surrounding the city is now more important than circular rail.
He agreed to such train's role as feeder but said the need for this service has comprehensively been addressed in six MRT lines and in subway network.
"The government has already made massive investment in MRT. So, there is a change in need assessment for the city, say its expansion and passenger movement," he told the FE.
Sources said the DCRL will be established with the concept of having speedy transportation as many areas in the periphery will be developed within years and many areas in decades.
Metro technology will be used for circular rail. The existing train corridor will be linked with it for transfer to other modes to go to city centre, said the official.
Although Tongi station has been proposed as central point, the circular train route will bypass the Ijtema compound, linking it with the BR's traditional route.
The BR signed a contract with China Railway SIYUN Survey and Design Group on April 31, 2019.
The firm started working on May 15 and submitted a draft by the end of the year.
However, the final draft was submitted late as the firm's entire team left Bangladesh after coronavirus infection had started spreading here.
The BR received the draft on November 11 last year and shared with stakeholders like Dhaka Mass Transit Company, Roads and Highways Department, Dhaka Transport Coordination Authority and Bangladesh Bridges Authority within a week.
The report of the feasibility study is expected to be finalised in a month or two and get approval from railways ministry.