Coupled with the existing development challenges, five major issues, including gaping inequalities, are emerging as critical for advancing Bangladesh's human-development status.
The government, in its course of steering the country clear of its least-developed status, identifies the new issues as inequalities, climate change, youth employment, teenagers' dreams, and peace and security.
As such, the government will focus on these five issues "which are important in their own right, but interacting with each other, their mutual synergies create a dynamic for the future human development path of the country".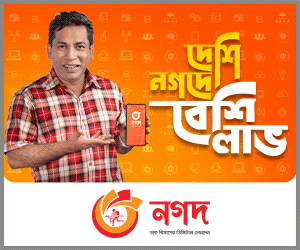 These issues and tasks are stated in the National Human Development Report 2021, unveiled Thursday, by Finance Minister AHM Mustafa Kamal at a virtually held event.
The report mentions that since 1990, Bangladesh has climbed up the global HDI rankings by seven notches - from126th to 133rd, among 189 countries.
Within less than three decades, Bangladesh could upgrade its HDI position by 60.4 per cent in 2019, and the country now belongs to the medium human-development category.
During the same period, Bangladesh has been able to cut its poverty incidence by more than a half - from 58 per cent to 20.5 per cent, it says.
In the past three decades, the life expectancy at birth has increased by more than 15 years - from 58 to nearly 73 years. The mean years of schooling - defined as the numbers of years of education received by people aged 25 years or above - more than doubled - from 2.8 years to 6.1 years, the report further cites to show the advances on human-development parameter.
"Even though Bangladesh achieved outstanding human-development outcomes, like any other society, all the regions of the country and groups of people, did not equitably benefit from such outcomes," the report says on the score of disparity.
Citing example it says in 2016, the income-share of the richest 5.0 per cent was nearly 30 per cent, while that of the poorest 5.0 per cent was less than 0.3 per cent.
The under-five mortality was nearly 60 per 1,000 live births in Sylhet, while it is just above 30 per 1,000 live births in Khulna. About 67 per cent of rural households do not have access to internet at home, but the corresponding figure for urban areas is 47 per cent, it said.
About two-thirds of all deaths - 67 per cent - are from non-communicable diseases, like cancer, cardiovascular diseases and so on.
"Furthermore, even though Bangladesh has made tremendous human-development progress over the years, there are still areas of deprivations," the government admits in the report.
It says inequalities by themselves are a drag on economic growth and human development.
The impacts of climate change are more serious on the poor and the marginalised group, making them more vulnerable.
Similarly, if younger people remain without jobs for longer periods, this will not only distress them, but will also have a disheartening impact on them.
The report carries suggestion on three strategies and instruments for tackling these challenges carefully.
There should be minimum number of strategies with maximum impacts, it says, and each strategy should have multiple impacts so that they influence more than one challenge.
Finally, it noted, the strategies should be forward-thinking with an aim to reach "win-win solutions".