Dragon fruit cultivation is becoming popular day by day in Cumilla. Besides, the demand for this foreign fruit in the market is increasing.
At present five out of 17 upazilas of Cumilla are cultivating this fruit. However, most of the cultivation is in five villages of Debidwar upazila of the district.
Dragon fruit is being cultivated on a large scale in Chhepara village of Debidwar upazila. Abul Fayez Munshi, a young agri-entrepreneur, is cultivating dragon fruit on two bighas of land in the village. Abul Fayez Munshi started cultivating the first dragon fruit in that village. Other youths of the village are also becoming interested in cultivating the fruit.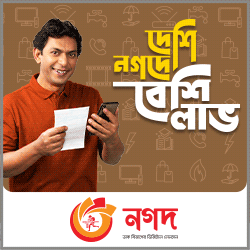 At present, people from different places are crowding every day to see Abul Fayez Munshi's dragon fruit orchard. He has already started selling some fruits. In addition, some of his trees have new fruits. The fruits will mature in 10/15 days. Some of his trees have flowers.
Visiting Chhepara village, it was seen that dragon fruit tree is like a cactus.
Abul Fayez Munshi said he completed master's degree in management from Victoria College. He has no interest in government or private jobs. He is cultivating various fruits including dragon fruit. After watching YouTube, he was inspired to cultivate the fruit.
Abul Fayez Munshi further said he has planted dragon trees on two bighas of land. It costs him 0.65 million taka. The trees will bear fruit for up to 30 years. He hopes he can sell dragon worth more than 0.65 million taka in the next two years.
Debidwar Upazila Agriculture Extension Officer Saiduzzaman said dragon fruit is being cultivated in different villages of Debidwar Upazila including Wahedpur, Mohammadpur, Yusufpur, Saitala and Chhepara. A few villages have had good yields.
District Agriculture Extension Officer Md. Mizanur Rahman said dragon is a very nutritious fruit. The soil of Cumilla is suitable for cultivation of this fruit, he added.
He said apart from Debidwar Upazila, dragon fruit is being cultivated on a large scale in Chandina, Barura, Lalmai and Sadar Dakshin Upazilas. Besides, small scale cultivation is taking place in different upazilas.