Amid an alarming surge in Covid-19 cases in Rajshahi city, authorities have extended the ongoing lockdown in the city by one more week.
The decision to extend the lockdown till June 24 to break the chain of Covid-19 transmission in the city was taken at a meeting held at Rajshahi Circuit House on Wednesday night, reports UNB.
"No improvement in the Covid-19 situation has been witnessed in the past six days in Rajshahi. The Covid positivity rate fluctuates but the mortality rate remains the same. That's why the lockdown has been extended," Rajshahi City Corporation Mayor Khairuzzaman Liton, who chaired the meeting, told reporters.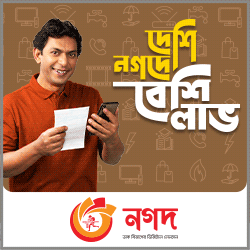 A seven-day lockdown was first imposed in Rajshahi on June 11. The lockdown was to end on June 17 midnight.
Deputy Commissioner of Rajshahi, Abdul Jalil said, "Rajshahi city will be detached from the other parts of the district during the lockdown, which will come into force on Thursday morning. No one will be allowed to enter or exit the city."
During the lockdown, all modes of public transport will stay off the roads. However, the movement restrictions won't apply on vehicles providing emergency services.
Moreover, all shops, markets, and restaurants will remain closed, except for grocery stores and pharmacies. This is to allow people to buy their daily essentials and medicines from their local grocers and chemists, respectively.
On Tuesday, the health authorities in Rajshahi reported 162 new Covid cases after testing 373 samples in two laboratories of the district. The positivity rate reached 43.44 per cent, which was 30.17 per cent on Monday, officials said.