People in Dhaka city and some parts of the country experienced light to heavy rainfall in the first half of Eid day Wednesday.
The shower brought a little relief from humid conditions but devotees and those engaged in qurbani faced some problems in movement.
Dhaka recorded 14 millimetres (mm) of rainfall in the past 24-hour period till 6 am but Rajshahi saw the highest 112mm rainfall, Aftab Uddin, a meteorologist at Bangladesh Meteorological Department (BMD), said.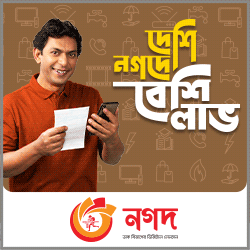 Dhaka witnessed only 1mm of rainfall from 6:00 am to 12:00 pm.
Mymensingh, Khulna, Barishal and Chattogram divisions also witnessed light to heavy rainfall since the morning, the meteorologist added.
Light to moderately heavy rainfall is likely to occur on Thursday and Friday, according to the met office forecast.
It pointed out that rainfall activity may increase further from July 23 to July 25 as the monsoon is fairly active over Bangladesh and moderate over North Bay.
In a 72-hour forecast, the Met office said a low-pressure area is likely to form over North Bay and rainfall activity may increase.
Day temperature may rise slightly and night temperature may remain nearly unchanged over the country, the forecast added.