An accused in a murder case was reportedly killed in a gunfight between his cohorts and police at Joynabaz in Kumarkhali upazila of Kushita district on early Friday.
The deceased, Anwar Hossain (27), son of Asmat Ali, was wanted in a case filed for killing Raqibul Islam, an expatriate, of Kumarkhali upazila.
Police arrested Anwar from Badhbazar on Thursday, and recovered a bloodstained t-shirt, rope and a sack, used in the murder from his residence, said Abdul Khaleque, the officer-in-charge of Kumarkhali Police Station.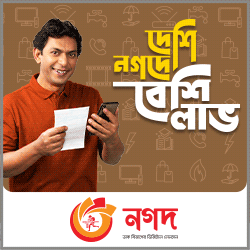 Acting on his information, a police team along with the accused went to the area to arrest other accused around 3 a.m, the OC said.
Sensing the law enforcers' presence, the associates of Anwar opened fire on police, prompting them to retaliate, triggering a gunfight.
At one stage, Anwar caught in the line of fire and sustained bullet wounds.
Police took Anwar at General Hospital, where duty doctors declared him dead.
Four policemen, including SI Rashid, were also injured in the incident.
One firearm, two bullets and two sharp weapons were recovered from the spot, reports UNB.