Fatema Akter Baby, a resident of Dhaka's Ashulia area, has a great desire to set up a cattle farm aiming to become a woman entrepreneur but she has no land available to build it.
Six months ago, Baby was thinking of how she could manage a piece of land to set up her cattle farm but she did not find the land to make her dream come true.
But Baby did not stop her effort and she was looking for the land. One day she found a fallow khas land near her house.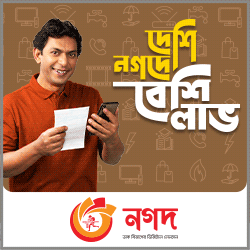 "I was thinking of how I can take lease of the khas land. I was learnt that the government provides the lease of fallow khas land for a long-term. To take the lease of the khas land, I moved door-to-door to know about the proper procedures but I did not able to know those," Baby said.
Later, she knew from her husband that she can apply for the lease of khas land digitally and she was informed of "myGov App".
"Then I applied for the lease of non-agricultural khas land to the Dhaka Deputy Commissioner's Office using the app. The authorities accepted my application and informed me that they were scrutinising my application and let me know about it later," Baby said.
In conventional way, submitting an application for taking the lease of khas land is a time consuming and complex, she said, adding, "But submission of my application using the app worked like a magic. I did not face any hurdle to do so."
Ismail Hossain of the capital's Motijheel wanted to initiate an internet business and that why, using "myGov App", he applied to Bangladesh Telecommunication Regulatory Commission (BTRC) for a license to this end.
"Five months back, I applied for the license. I submitted all documents required. The BTRC informed me that now its license issuing process is suspended. Once it resumes the process, I will be given a license," Ismail said.
Like Baby and Ismail, many people are submitting their applications to the government offices using "myGov App" or Eksheba Uddokta (all government services in one place), seeking public services.
Selim Miah, assistant commissioner (Land) of Netrokona Sadar, said his office has been providing land related services digitally. "We are providing e-Mutation and other e-land services, and we have been holding online hearings too," he added.
myGov platform was launched with an aim to bring all the government services under a single umbrella. Users can also get various information and services from the app dialling 333 from their phones.
For necessary information services, application and document submissions, application fee payments and post-application updates can be found in the app. Using voice only, service application, updates and other issues can be known. The identities of the applicants can be confirmed through the national identity cards (NIDs), reports BSS.