Shop owners on Sunday demanded reopening markets and shopping malls after August 5 as they have been incurring losses due to the lockdown measure imposed by the government to stop the spread of the coronavirus.
Bangladesh Shop Owners Association made the demand at a press conference at its office in the capital's New Market area.
The owners' association also put forward four-point demands. They are: arranging vaccination for the people working in the sector, deploying law enforcement agencies to ensure mask wearing and providing cash incentives to the affected traders.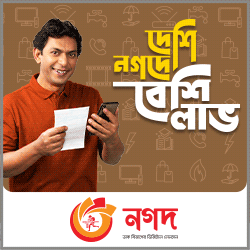 President of the shop owners' association Md Helal Uddin urged the government to allow reopening all the marketplaces after the ongoing nationwide lockdown ends on Aug 5.
More than two million people work in some 5.5 million small and micro-businesses across the country, he said, adding people involved in the sector have been facing financial hardships in the pandemic.
The shop owners lost millions of taka in the 270 days of market closure due to lockdown restriction in the pandemic, he added.
The government imposed a nationwide lockdown on July 01. The lockdown measure was eased for eight days during the Eid-al-Adha vacation. Later, the government extended the lockdown until Aug 5 amid the rising Covid cases.