All meter-gauge (MG)-related development activities of Bangladesh Railway (OR) may halt after 2025 as the government plans to put all trains on broad-gauge (BG) lines.
Officials said the complete switch in the popular transport service will take up to 2040 under a mega-plan for transformation of the centuries-old railways.
According to BR's record, Eastern Bengal Railway had started construction of the first BG line between Darsana and Jagati of Kushtia district way back in 1862.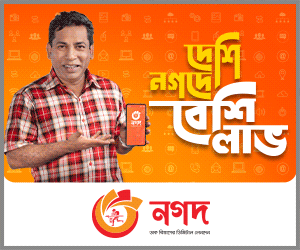 Sources said the latest target is set to stop the buying of any meter- gauge coaches and locomotives after 2025 and start full-fledged conversion of the BR services to BG by 2040.
"More than two-trillion-taka investment would be required to carry out the conversion as well as construction of new broad-gauge tracks till 2040," says an official.
He, however, said investment to reach the target has already been begun as the BR has been executing over Tk 800 billion worth of projects to construct dual-gauge tracks alongside existing tracks on many routes by 2020.
Officials said the latest target is fixed to make the state-owned train enterprise into international-standard one as many countries have already discarded MG services.
The manufacturing of MG coaches and locomotives has also stopped in many parts of the world.
The targeted advances in this mass-transport sector have already been incorporated into the revised 20-year master plan which is now being framed, they also said.
"We will go for broad gauge by 2040. But metre-gauge trains and freight services may be available in branch areas and will continue till the end of life of MG locomotives," said one official involved with the planning.
As per the target, he said, no BR's development activities would be taken on MG after 2025. All track-development activities will be BG-centric.
The BR has now tracks on both MG and BG systems but majority of 4,185km tracks are MG lines. Since 2009, the present government has invested several hundred billion of taka in the sector to enhance BR's image through improving its tracks, and train and freight services.
But all its development activities have been centered on developing double lines of MG or single-line dual gauge, which means MG or BG trains both can be operated on the single line. Almost entire track of western zone of the BR is based on BG. But the eastern part which carries majority train and freight services for having connected with the Chittagong Port city still boasts moving on MG.
BR officials said as setting up a rail line is time-consuming, initial planning to improve the rail service was taken based on existing resources to improve both passenger train or freight services with speed and maintaining time.
Though the officials said the entire target of the BR is to make the service international-standard, critics said no effort was there to set up standard-gauge line simultaneously when many countries have already switched to the new track.
They said standard gauge is introduced to run high-speed trains.
A BR official, preferring not to be named, said to match with the train services of the neighbouring countries, including India, the BG-based train service has been planned.
BG is widely used in India along the border of Bangladesh, he added
The official, however, said a project has already been taken to find the viability of introducing speedy train which would also help BR assess the needs for developing standard line in the future.
The BR is committed to turning its services to international-standard ones for joining trans-Asian Railway (TAR) corridor for improving train- based trade corridor with regional countries.