Raising the first brigade of Dhaka metro operators now resumes, after a long lapse for corona invasion, with their training from abroad to run the first MRT-line train.
Officials say the move to develop the first team to operate and maintain the first mass rapid transit (MRT) line of metro rail in the city has been resumed 18 months behind the schedule following improvement in the coronavirus situation.
A total of 163 officials of the Dhaka Mass Transit Company (DMTCL) were supposed to train on operation, maintenance and rolling stock in India and Japan starting in April last year.
The DMTCL sent the first batch of 36 officials to take five-month training for operation and maintenance and four-and-a-half-month training in rolling stock.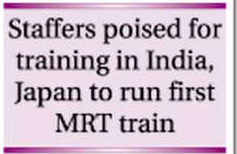 Sources said though the DMTCL conducted some introductory training to its officials recruited in the first phase among the recommended more than 1900, foreign training could not be started due to the closure of Indian border and Japan's travel restrictions.
"With the improvement in the coronavirus situation in both countries, the first team was sent under government official arrangement," said DMTCL Managing Director MAN Siddique.
He said the rest would be sent to India in a month or two, expressing the hope to start the first part of the MRT line 6 in time despite the inordinate delays.
Sources say after completing training from Delhi Metro Rail Corporation and Delhi Metro Rail Academy, the team will take training in Japan.
Japanese teams which have so far provided necessary financial and technical supports for developing the first MRT corridor from Uttara to Motijheel Kamlapur rail station has chalked out at least one-year training for the DMTCL staff.
Though the DMTCL has more recruitment plans, the MD said that from the first batch, a group of ToT (training of trainers) will also be developed to continue the effort of training from home front.
DMTCL is implementing the first MRT line 6 in the city's north-south corridor announcing launch of the first 11.74 kilometres from Uttara to Agargaon by December 2022.
The first phase was supposed to be launched in December this year but was pushed back by the exigencies of coronavirus as it halted all kinds of movement of the foreign contractors.
Besides, the state-owned metro-rail company could not get the train sets manufactured in Japan in time for failing to start shipment in April last year.
However, sources said the Thai contractor which is responsible to develop the elevated infrastructure of the first phase has been asked to hand over its part to the DMTCL by October next.
But the commencement of the first-phase MRT line needs to complete at least various tests, including commercial trial run, before the landmark launch of maiden metro in Bangladesh.