Severe pollution, encroachment, and sand and soil lifting have posed an existential threat to 13 rivers that flow through Jhenidah, environmentalists say.
The rivers Nabaganga, Chitra, Kumar, Kali, Begboti, Fotki, Kabodak, Isamoti, Kodla, Betna, Bang, Garai and Buri Bhairab may go soon if the authorities concerned do not act in time, they say.
Some influential people are behind such miserable condition of these rivers, and they have encroached on the rivers labelling them as canals, as if encroaching on canals were legal, the environmentalists say.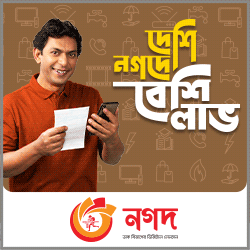 They are either directly involved in or back the illegal activities like building fish enclosures in the rivers, lifting sand and soil from there, erecting low-height bridges over the rivers and filling the rivers, they add.
Such activities have hindered the water flow of the rivers, leaving the rivers to dry up, according to them.
Dwelling houses, entertainment parks, children's parks, offices and factories have even been built by encroaching on the rivers, the environmentalists point out.
Sewage drains have been linked to the rivers contributing a lot to their pollution. Pollution of the rivers is resulting in various water-borne diseases, they add.
Again, taking advantage of the dying condition of the rivers, a section of people have been growing various types of crops like paddy, lentils, onion and garlic on the river beds, the environmentalist say.
Not only fish but also other river creatures and aquatic plants are vanishing fast, causing a great threat to the environmental balance, fishers say.
Fishermen Modon, Adhir and Bishu from Nischintapur village under Shailkupa upazila say many of them have switched to other professions, as they cannot earn enough from this profession to run their family.
They lamented that the rivers remain dried up most of the time every year.
Jhenidah Environment and Biodiversity Conservation Committee's President Masud Ahmed Sanju said Jhenidah is a very drought prone region and so protecting the rivers there is crucial to save the district from drought.
Also the chief adviser at Nabaganga Protection Committee, he put emphasis on freeing the rivers from all sorts of maltreatment in order to ensure a sound healthy environment in the district.
The government has launched a development project for the re-excavation of small rivers, canals and water bodies in all 64 districts of the country.
Under the first phase of the project, the re-excavation of seven canals under six upazilas or sub-districts of Jhenidah, costing Tk 138.80 million, is at the last stage now.
Under the second phase of the same project, the re-excavation of five rivers and 66 irrigation drainage canals, costing Tk 3750 million, is set to start soon.