Flour price soars by 50-60pc in a year
Bread becomes costly as wheat acreage shrinks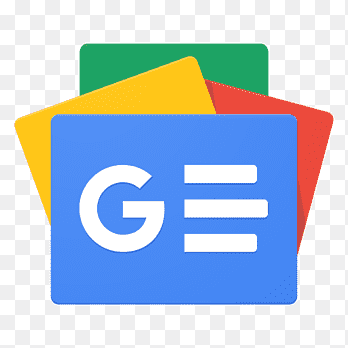 For all latest news, follow The Financial Express Google News channel.
Flour products become too costly in Bangladesh as the country's wheat acreage loses out to corn, litchi, mango and tea gardens while global supplies wobble amid 'price war'.
Farmers increasingly switch to different farming as they find more profits from other crops, said insiders.
The production of the second staple is stuck around 1.0 million tonnes for half a decade while its cropping area plunged 25 per cent in last eight years, according to market experts.
Low domestic output is prompting the country to spend more for its import when wheat-flour prices shot up to an all-time high at Tk 75-85 a kg in the retail markets, they said.
Bangladesh Bureau of Statistics (BBS) data show production of wheat was almost same at 1.08 million tonnes in last FY'21 and FY'22.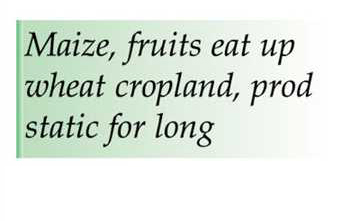 The output was 1.02 to 1.09 million tonnes in FY'17, FY'18 and FY'19.
"There is little chance for a further increase in production as only 0.31 million hectares of land could be brought under the grain farming this financial year," an official at the Department of Agricultural Extension (DAE) says.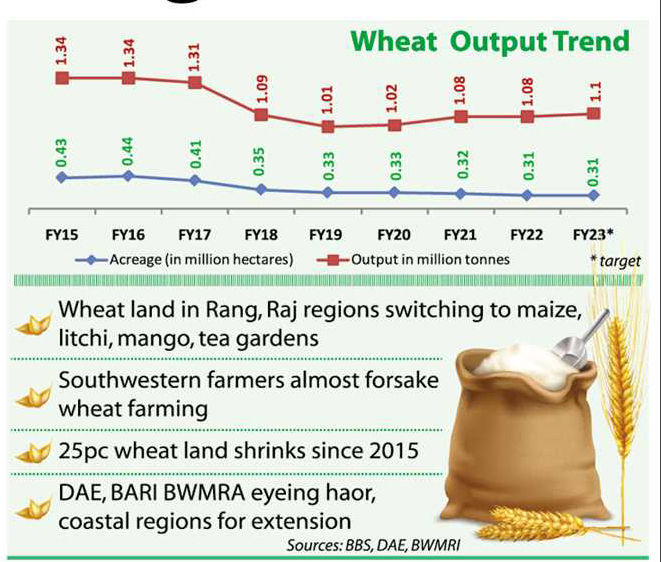 According to him, farmers in Thakrugaon, Nilphamari, Naogaon, Pabna, Chapai Nowabganj, Rajshahi, Jhinedah, and Chuadanga are gradually switching to maize farming.
A large area also went under litchi, mango and tea gardens in the northern districts, he said.
He said 15,000 hectares of wheat land had been turned either into maize land or into litchi garden in Thakurgaon.
He said only 45,000 hectares of land was brought under wheat farming in the districts last year.
Many Panchagarh and Nilphamari farmers changed their land into tea gardens, he said, as tea growing in plain-land is showing prospect as a cash crop.
Farm-economist Prof Gazi M Jalil said random blast disease in 2015 and 2016 forced many farmers to stop wheat farming in the northern and southwestern regions.
Farmers avoided risky farming and switched to other profitable crops.
"Though price of wheat is now very high, it hardly could encourage them to revert to the crop for the previous concerns," he said.
Farmers are now eager to grow maize, potato, winter veggies, and Boro rice.
And many farmers are making permanent fruit gardens, he said.
Also, a vast number of farmers have turned their land into mango gardens of Haribhanga and Amrapali varieties.
He says wheat land has decreased by 25 per cent since 2015.
The economist suggests that government agencies concerned like Bangladesh Wheat and Maize Research Centre (BWMRI), Bangladesh Agricultural Research Institute (BARI) and DAE should search for alternative strategy to motivate farmers.
"It would be tough to attract farmers further in the plain for wheat."
Value-chain-expert Prof Md Moniruzzaman finds import dependence on wheat gradually rising amid a demand surge following change in food habit.
Though the wheat import has declined in last one and a half years for dollar crisis, normal demand soared to above 7.0 million tonnes.
The country has to spend US $1.5 to $ 2.0 billion annually on foreign wheat buy.
He suggests that import should be minimised for better food security as sourcing grains has been the toughest job since the beginning of the latest European war last year.
He said wheat-flour prices had increased to a record high since the war, for supply disruptions.
BWMRI director Dr Md Abu Zaman Sarker told the FE that the Institute along with DAE and BARI eyes extension of wheat farming in the haor and coastal regions.
He said five suitable varieties--BARI gom 33, WMRI gom 1, 2,3 and 4-were released.
The BARI gom 33 is blast-tolerant while WMRI gom 4 can tolerate salinity within 10 ds, he informed.
According to the state-run Trading Corporation of Bangladesh (TCB), finer wheat flour or maida price shot up to Tk 85 a kg while coarse flour or atta to Tk 75 a kg in December 2022.
The price indices showed a slight decline in January 2023 but still 50-66-percent higher than that a year before, said TCB officials.