The Chartered Institute of Logistics and Transport (CILT) Bangladesh announced the new executive committee of its youth forum, the Next Generation for the term of 2021-2023 recently via a virtual ceremony, said a press release received on Sunday.
The ceremony was inaugurated by Capt. Giasuddin, Secretary General of CILT Bangladesh Council, and moderated by Rafsan Jani, Head of Operations of Startup Chattogram.
Tanjil Ahmed Ruhullah, Managing Director at Interport Maritime Ltd. has been appointed as the Chairman of the Next Generation. AsgarHaider, Director at Youth Group and Tajrul Islam Litu, Chairman at VISCO Logistics has been appointed as Vice-Chairpersons.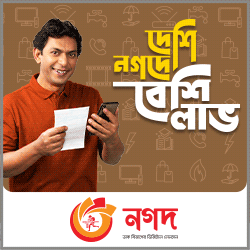 Nurul Afsar Chowdhury, Senior Operative Director at Walton Hi-Tech Industries Ltd. and Shamdanee Tabriz, CEO at Rapido Deliveries, have been appointed as General Secretary and Treasurer respectively.
K.M Saqiful Alam, Regional Program Manager, Trust and Safety at TikTok, Reyasat Chowdhury, CEO and Co-Founder at Shuttle, Tohidul Islam, Supply Chain Operations Lead at Vision Spring, Mazharul Islam, CEO at Green Garden Travels and Mohammad Ekram Hossain, Senior Executive (T&D) at Interport Group have been appointed as Executive Committee Members.
Tanjil Ahmed Ruhullah in his speech as the incoming Chairman stated, "I joined CILT Bangladesh as a young professional in 2010 to accelerate my professional growth and I truly cherish the opportunities presented by CILT to interact with senior and established practitioners in this booming industry through the institute events and platforms".
Muhammad Refayet Chowdhury in his address as the outgoing Chairman urged the Next Generation Forum to take up opportunities to mentor and support local logistics and transport startups to drive growth and employment in our sector in the difficult Covid-19 situation currently.
The new executive committee vowed to put their industry knowledge and experience in use to guide, nurture and develop other Young Professionals locally through mentorship, internship and job placement opportunities to help them navigate the current challenges in the industry especially during the Covid-19 crisis when thousands of graduates and young professionals are struggling to find jobs.
Mohammad Zia Uddin, Head of Supply Services at Reckitt Benckiser (Bangladesh and Sri Lanka Cluster), Mohammad Ashraful Islam Khan, Head of Supply Chain Advisory Services at KPMG Bangladesh, Mohammad Nazmuzzaman Hye, Country Representative, VCARE Academy and Muhammad Refayet Chowdhury, Chairman at Antopolis also spoke on the occasion as Honorary Advisors to the new board.
CILT is the largest Chartered organisation for supply chain, logistics and transport professionals in the world having 33,000 members in 36 countries around the world, including Bangladesh.