Al-Arafah Islami Bank Limited has approved 15 per cent cash and 5.0 per cent stock dividend for the year ended on December 31, 2017.
The dividend was approved at the bank's 23rd annual general meeting (AGM) in the capital on Thursday, presided over by Abdus Samad Labu, Chairman of the bank's board of directors, according to a statement.
The bank achieved a deposit growth of 22.58 per cent in 2017 than that of 2016 while the growth was 20.04 per cent in investment, 31.92 per cent in imports and 18.59 per cent in exports.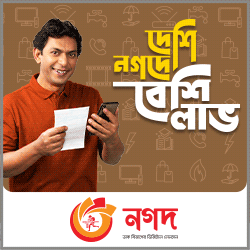 At the end of 2017, the bank registered a net asset value (NAV) of Tk 20.76 billion and NAV per share of Tk 20.87.
The earnings per share (EPS) of the bank stood at Tk 3.15 in 2017.
The meeting considered and adopted the directors' report, statement of accounts for the year 2017 along with the auditors' report, and appointed the auditors of the company for the term until the next AGM.
The shareholders participated in the review of the overall performance of the bank and expressed their satisfaction over the bank's performance. They also stressed the need for improving the performence and image of the bank.
The chairman thanked the shareholders for the confidence entrusted on the board of directors.
The bank's Vice-Chairman Abdus Salam, Directors, Managing Director Md. Habibur Rahman and other senior executives were present at the AGM.