Stocks extended the gaining streak for the three consecutive sessions Wednesday as investors took position on banks and Grameenphone shares.
Dealers said the market extended the winning streak riding on large-cap GP and bank shares.
Share price of GP, the lone listed telecom company, soared Tk 16.70 or 3.78 per cent each to close at Tk 459, the highest closing price since its debut in stock market 2009.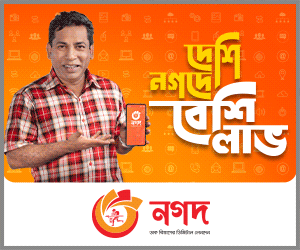 On the other hand, 19 banks closed higher, out of 30 listed banks.
Following the previous two days' gain, the Dhaka Stock Exchange (DSE) and the Chittagong Stock Exchange (CSE) opened positive amid high turnover activities.
The positive trend sustained till end of the session amid modest volatility in the mid-session, finally closed more than 29 points higher.
DSEX, the prime index of the DSE, which replaced the DGEN in four-and-a-half-year back, settled at 6,159, advancing 29.38 points or 0.48 per cent over the previous session.
The two other indices edged higher. The DS30 index, comprising blue chips advanced 19.16 points or 0.87 per cent to close at 2,230. The DSE Shariah Index (DSES) gained 8.14 points or 0.61 per cent to finish at 1,337.
Turnover, the most important indicator of the market, stood at Tk 7.65 billion, which was 2.82 per cent higher than the previous day's turnover of Tk 7.44 billion.
Losers took a modest lead over the gainers as out of 331 issues traded, 163 closed lower, 117 closed higher and 51 remained unchanged on the DSE trading floor.
City Bank topped the day's turnover chart with 7.40 million shares of Tk 384 million changing hands, closely followed by GP, Dhaka Bank, Uttara Bank and Oimex Electrode.
Monno Ceramic Industries was also the day's best performer, posting a gain of 6.37 per cent while Makson Spinning Mills was the day's worst loser, plunging by 5.60 per cent.
The port city bourse Chittagong Stock Exchange (CSE) also closed higher with its Selective Categories Index - CSCX –advancing 47 points to close at 11,559.
Losers beat gainers as 117 issues closed lower, 92 closed higher and 28 remained unchanged on the CSE.
The port city bourse traded 13.89 million shares and mutual fund units worth Tk 401 million in turnover.