Stocks witnessed a positive trend in early trading on Thursday as investors continued their appetite for sector-wise issues following the central bank's expansionary monetary policy statement.
Today is the last trading session before Eid-ul-Azha vacation. Trading and official activities will remain closed for three days until Sunday (August 02), including weekly holidays.
Within 30 minutes of trading until 11am when the report was filed, DSEX, the prime index of Dhaka Stock Exchange (DSE), advanced more than 10 points while CASPI, the main index of Chatttogram Stock Exchange (CSE), gained 37 points.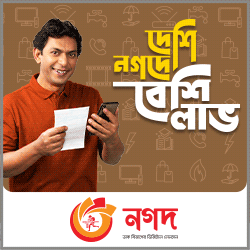 DSEX went up by 10.53 points or 0.25 per cent to stand at 4,181 points.
Two other indices also witnessed an upturn.
Of them, DS30 index, comprising blue chips, gained 5.71 points to reach 1,407 and DSE Shariah index rose 5.52 points to stand at 970.
Turnover, an important indicator of the market, stood at Tk 1.20 billion on DSE.
Market analysts said the central bank's expansionary monetary policy statement, gradual reopening of the economy coupled with no major spike in daily Covid-19 infected cases, led investors to take position on sector-wise stocks.
The Bangladesh Bank unveiled an expansionary monetary policy statement (MPS) on Wednesday for the current fiscal year lowering borrowing costs to boost money flow for revamping the pandemic-hit economy.
Gradual reopening of the economy and the stock market regulator's assurance not to lift floor price restriction until the market becomes stable have led investors to buy shares, said a merchant banker.
Of the issues traded till then, 136 remained unchanged while 116 issues advanced and 71 declined on the DSE floor.
Beximco Pharma was the most traded stocks till then with shares worth Tk 59 million changing hands, followed by Pioneer Insurance, BSCCL, Linde BD and Saiham Textile.
The port city's bourse CSE also saw a positive trend with its main index CASPI (CSE All Share Price Index) advancing 37 points to stand at 11,912 points.
The CSE Selective Category Index, CSCX, gained 23 points to stand at 7,223 points.
Of the issues traded till then, 39 advanced, 16 declined and 46 issues remained unchanged with Tk 18 million in turnover.