Dhaka stocks continued to break their previous record as core index of the prime bourse hit a fresh high on Sunday since its inception in January 2013.
Dealers said the market maintained the upward trend having optimistic support of sector-wise stocks, taking the prime index to new high.
The market rose sharply in the morning and the key index rose more than 38 points within first 45 minutes of trading, but most of the initial gains wiped out as the session progressed.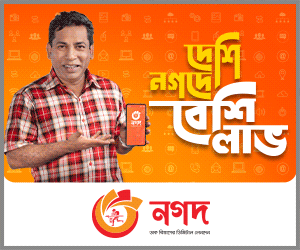 Finally, DSEX, the core index of the Dhaka Stock Exchange (DSE), which replaced the DGEN in nearly five years back, went up by 14.36 points or 0.22 per cent to settle at historical high at 6,336.88. It was the highest level of DSEX since its inception on January 27, 2013.
The DSE Shariah Index (DSES) also followed the suit to close at historical high of 1394, advancing 0.80 point or 0.05 per cent. It was also the highest level of DSES since its introduction in January 20, 2014.
The DS30 index comprising blue chips went up by 2.65 points or 011 per cent to settle at 2,280 points.
Trading activities, however, fell 7.38 per cent to Tk 7.91 billion on the DSE, from previous day's Tk 8.54 billion.
The gainers took a modest lead over the losers as out of 328 issues traded, 170 closed higher, 113 closed lower and 45 remained unchanged on the DSE trading floor.
AB Bank topped the day's turnover chart with 15.78 million shares of Tk 409 million changing hands, followed by Shahjalal Islami Bank, Paramount Textile, BD Thai Aluminium and City Bank.
The state-run Eastern Cables was the day's best performer, posting a gain of 8.75 per cent while Confidence Cement was the day's worst loser, plunging by 14.49 per cent.
The port city bourse Chittagong Stock Exchange (CSE) also ended higher with CSE All Shares Price Index (CAPSI) of port city bourse, gaining 30 points to close at 19,599.
The Selective Categories Index - CSCX – also rose nearly 17 points to finish at 11,861.
Gainers beat losers as 118 issues closed higher, 97 closed lower and 32 remained unchanged on the CSE.
The port city bourse traded 11.95 million shares and mutual fund units worth more than Tk 339 million in turnover.