Bourses slipped into red on Monday, snapping the three days gaining streak, as risk-averse investors booked profit on quick-gaining stocks.
The market was upbeat in the last three consecutive sessions, taking the prime index of the major bourse in the highest level since its inception on January 27, 2013.
Market insiders said the cautious investors booked quick-profit on large-cap sectors, especially bank and telecommunication issues, taking the market into the red zone.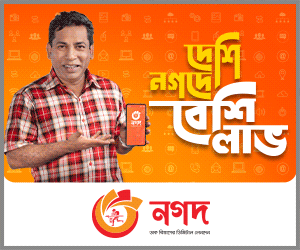 The market started with an upward trend and the key index of the prime bourse rose more than 16 points within first 30 minutes of trading, but rest of the session went down steadily, finally ended more than 34 points lower.
DSEX, the benchmark index of the Dhaka Stock Exchange (DSE) went down by 34.43 points or 0.54 per cent to settle at 6,302, after hitting record high in the previous day.
The two other indices -- the DS30 index and the DSE Shariah Index (DSES) – also followed the suit to close at 2,267 and 1,387 points, after losing 12.36 points and 7.26 points respectively.
Trading activities, however, rose 17 per cent to Tk 9.29 billion on the major bourse, from previous session's Tk 7.91 billion.
The losers took a modest lead over the gainers as out of 328 issues traded, 173 closed lower, 113 closed higher and 42 remained unchanged on the DSE trading floor.
LankaBangla Finance topped the day's turnover chart with 15.54 million shares of nearly Tk 818 million changing hands, followed by AB Bank, Islami Bank, United Power and Standard Bank.
BD Autocars was the day's best performer, posting a gain of 7.62 per cent while LankaBangla Finance was the day's worst loser, plunging by 25.68 per cent following its price adjustment after record date for rights.
The port city bourse Chittagong Stock Exchange (CSE) also ended lower with CSE All Shares Price Index (CAPSI) of port city bourse, losing 92.56 points to close at 19,507.
The Selective Categories Index - CSCX – also fell more than 57 points to finish at 11,804.
Losers beat gainers as 122 issues closed lower, 87 closed higher and 38 remained unchanged on the CSE floor.
The port city bourse traded 17.24 million shares and mutual fund units worth more than Tk 448 million in turnover.