Daily trade turnover on Dhaka Stock Exchange (DSE) surpassed Tk 8.0-billion mark Thursday after one month as investors put fresh stakes on stocks.
Turnover, a crucial indicator of the market, stood at Tk 8.70 billion on the country's premier bourse, climbing further by 14 per cent over previous day's mark of Tk 7.65 billion.
It was the biggest single-day transaction since October 11, when the turnover totalled a record Tk 10.92 billion.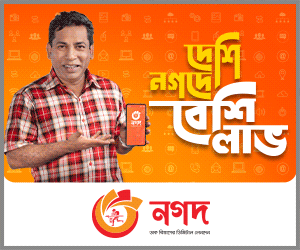 Along with rising turnover value, DSEX, prime index of DSE, continued to hold its gaining momentum, adding 34.49 points more to settle at 6,193 points.
DSEX, which replaced DGEN four and a half years back, added more than 121 points or 2.0 per cent in the past four consecutive sessions.
Two other indices -- DS30 index and Shariah index DSES – also followed the suit to close at 2,244 and 1,341 points, after rising 14.22 points and 4.43 points respectively.
Market insiders said the market continued the bullish trend for the four straight sessions as the enthusiastic investors showed their buying appetite on banking sector stocks.
Losers, however, took a modest lead over the gainers as out of 325 issues traded, 140 closed lower, 130 closed higher and 55 remained unchanged on the DSE trading floor.
City Bank dominated the turnover chart for the second day in a row with 10.35 million shares of Tk 553 million changing hands, closely followed by Dhaka Bank, LankaBangla Finance, Brac Bank and Keya Cosmetics.
Reckitt Benckiser was also the day's best performer, posting a gain of 6.24 per cent while Qasem Drycells was the day's worst loser, plunging by 12.35 per cent.
Chittagong Stock Exchange (CSE) also ended higher with its Selective Categories Index - CSCX –gaining more than 62 points to close at 11,618.
Losers beat gainers as 113 issues closed lower, 97 closed higher and 37 remained unchanged on the CSE.
Port city bourse CSE traded 16.04 million shares and mutual fund units worth Tk 483 million in turnover.