Stocks extended the winning spell for the fifth straight session on Sunday as enthusiastic investors continued their buying appetite on bank and telecommunication issues.
Market operators said the positive momentum in some large-cap issues, especially form banking and telecom sectors, helped the bourse stay upbeat.
The banking sector continued to perform well as 27 banks closed higher, out of 30 listed banks with seven banks featuring in the top 10 turnover chart.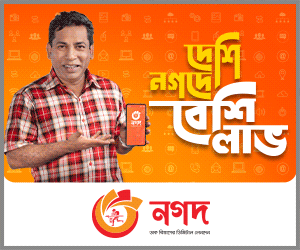 The telecom sector surged as Grameenphone, the country's largest market-cap listed company's shares price jumped 3.17 per cent or Tk 14.50 each to close at Tk 471.40, the highest closing price since its listing with the bourses in 2009.
"The market extended the winning streak riding on heavyweight bank and telecom sectors issues which affect the index largely," said an analyst at a leading brokerage firm.
Daily trade turnover on Dhaka Stock Exchange (DSE) also surpassed Tk 9.0-billion-mark after one month as investors put fresh stakes on banking and telecom sector stocks.
Turnover, a crucial indicator of the market, stood at Tk 9.83 billion on the country'' premier bourse, climbing further by 13 per cent over previous day's mark of Tk 8.70 billion.
It was the biggest single-day transaction since October 11, when the turnover totaled a record Tk 10.92 billion.
Along with rising turnover value, DSEX, the prime index of the DSE, continued to hold its gaining momentum, adding more than 30 points more to settle at 6,223 points.
DSEX, which replaced the DGEN in nearly five years back, added more than 151 points or 2.48 per cent in the past five consecutive sessions.
The two other indices -- the DS30 index and the DSE Shariah Index (DSES) – also followed the suit to close at 2,259 and 1,343 points, after rising 15 points and 1.61 points respectively.
Losers, however, took a strong lead over the gainers as out of 334 issues traded, 205 closed lower, 95 closed higher and 34 remained unchanged on the DSE trading floor.
Dhaka Bank dominated the turnover chart with 19.42 million shares of Tk 472 million changing hands, closely followed by Brac Bank, Shahjalal Bank, City Bank and Western Marine Shipyard.
AB Bank was also the day's best performer, posting a gain of 9.66 per cent while Eastern Lubricants was the day's worst loser, plunging by 115.65 per cent following its corporate declarations.
The port city bourse Chittagong Stock Exchange (CSE) also ended higher with its Selective Categories Index - CSCX –gaining more than 67 points to close at 11,685.
Losers beat gainers as 141 issues closed lower, 82 closed higher and 24 remained unchanged on the CSE.
The port city bourse traded 24.74 million shares and mutual fund units worth Tk 694 million in turnover.