Stocks witnessed a moderate fall for the two consecutive sessions on Wednesday as cautious investors continued to book profit on quick-gaining issues amid virus worries.
Meanwhile, trading time at the bourses extended to four hours (10:00am to 2:00pm) from Thursday in line with the banks during the strict lockdown (July 8 to July 14) where trading will remain closed on Sunday due to closure of banks.
Following the previous day's marginal correction, the market started on an upbeat note and the key index of the major bourse rose 40 points within the first hour of trading. However, the rest of the session went down steadily as investors opted for booking profit on banks, financial institutions and insurance stocks.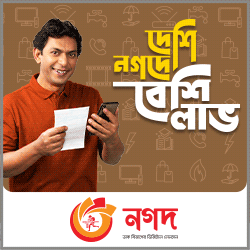 DSEX, the key index of the Dhaka Stock Exchange (DSE), went down by 19.35 points or 0.31 per cent to settle at 6,177. DSEX lost about 42 points in the two straight sessions.
Two other indices, however, edged higher with the DS30 index, comprising blue chips, advanced 2.49 points to finish at 2,231 and the DSE Shariah Index gained 2.77 points to close at 1,327.
Turnover, a crucial indicator of the market, also dropped to Tk 15.77 billion on the country's premier bourse, which was 12 per cent lower than the previous day's mark of Tk 17.89 billion.
Market operators said the investors continued to opt for booking profit on sector specific stocks as the Covid-19 cases are rising alarmingly every day and the situation is deteriorating fast.
Some retail investors sold shares to pull out money ahead of Eid vacation, said a leading broker.
He noted that the shaky investors liquidated their holdings from financial institution, life insurance, general insurance, bank and textile sectors which pushed down the index.
However, the optimistic investors remained active on paper, cement; mutual fund and IT sector stocks, he added.
Losers took a strong lead over the gainers, as out of 372 issues traded, 205 ended lower, 142 higher while 25 remained unchanged on the DSE trading floor.
A total number of 244,193 trades were executed in the day's trading session with a trading volume of 648.58 million shares and mutual fund units.
The market capitalisation of the DSE dropped further to Tk 5,150 billion on Wednesday, down from the previous day's mark of Tk 5,159 billion.
Beximco - the flagship company of Beximco Group- topped the turnover chart with shares worth Tk 1.62 billion changing hands, followed by LafargeHolcim (Tk 477 million), Beximco Pharma (Tk 281 million), National Feed Mills (Tk 268 million) and Keya Cosmetics (Tk 259 million).
Information Services Network was the day's best performer, posting a gain of 9.79 per cent while Alltex Industries was the worst loser, losing 7.80 per cent.
The Chittagong Stock Exchange also kept losing with its All Shares Price Index (CASPI)—shedding 74 points to close at 17,881 while the Selective Categories Index – CSCX losing 43 points to close at 10,739.
Of the issues traded, 170 declined, 110 advanced and 27 issues remained unchanged on the CSE.
The port city bourse traded 29.49 million shares and mutual fund units with turnover value of Tk 783 million.