Stocks remained almost flat in the early trading on Sunday as investors followed a cautious stance amid worsening pandemic situation in the country.
Within 30 minutes of trading, DSEX, the key index of DSE, advanced 0.19 point while the CSE All Share Price Index (CASPI) of port city's bourse rose 1.62 points at 10:30am when the report was filed.
The DSEX went up by 0.19 point to stand 3,969 points at that time.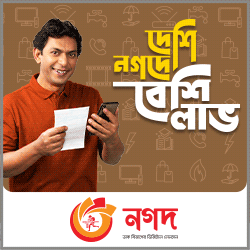 The DSE core index is hovering between 3,950 and 3,970 points for the past 17 sessions as most of the sellers find almost no buyers amid growing tension over the Covid-19 pandemic and floor price limitation.
Two other indices also saw positive trends till then. The DS30 index, comprising blue chips, advanced 0.94 points to reach at 1,331 and DSE Shariah Index rose 0.32 points to stand at 919 points till then.
Turnover, one of the important indicators of the market, stood at Tk 152 million on DSE when the report was filed at 10:30am.
Beximco Pharma was the most traded stock till filing of this report with shares worth Tk 26 million changing hands, closely followed by BSCCL, Paramount Insurance, Keya Cosmetics and Indo-Bangla Pharma.
The Chittagong Stock Exchange (CSE) also witnessed marginal gain till then with the CSE All Share Price Index (CASPI) advancing 1.62 points to stand at 11,263 points, also at 10:30am.
The Selective Category Index (CSCX) also advanced 0.16 points to stand at 6,818 points till then.
Of the issues traded till then, 6 advanced, 5 declined and 38 issues remained unchanged with Tk 4.0 million in turnover.