Stocks opened marginally higher on Thursday as investors showed their appetite for sector-wise issues despite the rising trend of virus infections and deaths in the country.
Trading remains open for four hours from today in line with the banks during the strict lockdown. Trading activities will remain closed on July 11 and trading days will be from Monday to Thursday for the next week as per the banking schedule.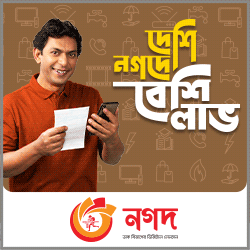 Following the previous two days' marginal correction, DSEX, the prime index of the DSE, went up by 16.45 points or 0.26 per cent to reach 6,193 within the first 30 minutes of trading when the report was filed at 10:30 am.
Market experts said the investors are hopeful about the market as the government has kept the undisclosed money investment opportunity in the capital market in the new fiscal year and regulatory decision to keep the market open during the lockdown.
Two other indices saw an upward trend till then with the DS30 index, comprising blue chips, gained 5.02 points to reach 2,236 and the Shariah Index (DSES) rose 7.15 points to stand 1,334 points till then.
Turnover, another important indicator of the market, stood at Tk 2.58 within the first 30 minutes of trading at 10:30 am.
Of the issues traded till then, 195 advanced, 122 declined and 44 remained unchanged on the DSE trading floor till then.
Beximco was the most traded stock till then with shares worth Tk 154 million changing hands, closely followed by LafargeHolcim, Active Fine Chemicals, Fu-Wang Ceramic, and Sonali Paper.
The port city bourse – the Chittagong Stock Exchange – (CSE) also opened higher with CSE All Share Price Index- CASPI-gaining 34 points to stand at 17,916, also at 10:30 am.
Of the issues traded till then 78 advanced, 60 declined and 21 remained unchanged with Tk 66 million in turnover.