Stocks witnessed a marginal fall in early trading on Monday, after hitting an all-time high in the previous day, as risk-averse investors opted for booking some profit on sector-wise issues.
The market opened marginally lower as the benchmark index of the Dhaka Stock Exchange (DSE), went down by 6.28 points or 0.10 per cent to stand at 6,417 points within the first 30 minutes of trading when the report was filed at 10:30 am.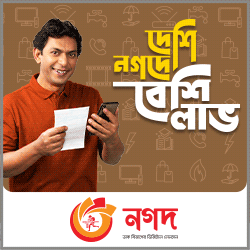 The DS30 index, comprising blue chips, also fell 1.53 points to reach 2,334. However, the Shariah Index (DSES) gained 0.56 points to stand at 1,394 points till then.
Turnover, another important indicator of the market, stood at Tk 3.30 billion within the first 30 minutes of trading at 10:30 am.
Market insiders said the Bangladesh Bank's warning to the commercial banks of diverting funds to unproductive sectors like the stock market or real estate as part of a precautionary measure made investors cautious.
The central bank said they found some stimulus funds were even being used in real estate and the stock market as economic activities remained sluggish in the face of recurring waves of Covid-19.
In a letter sent to banks on Sunday, the BB asked lenders to engage internal audit divisions in ensuring that money was not going to unproductive sectors and the stimulus loans are used in the targeted sectors only.
Of the issues traded till then, 139 advanced, 180 declined and 46 remained unchanged on the DSE trading floor till then.
Newly listed Baraka Patenga Power was the most traded stock till then with shares worth Tk 467 million changing hands, closely followed by GPH Ispat, BATBC, Fu-Wang Ceramic, and Saif Powertec.
However, the port city bourse – the Chittagong Stock Exchange – (CSE) saw a positive trend till then with CSE All Share Price Index- CASPI-gaining 40 points to stand at 18712, also at 10:30 am.
Of the issues traded till then 61 advanced, 57 declined and 12 remained unchanged with Tk 139 million in turnover.