The prices of most of the shares on the bourses witnessed an upward trend in the early hour of trading on Sunday, the first session after the Eid holidays.
The Dhaka Stock Exchange (DSE) and Chittagong Stock Exchange (CSE) were closed for five days from July 20 to 24 due to Eid-ul-Azha, the second largest religious festival of Muslims, including weekly holidays.
Trading will be open for three hours in line with the limited scale banking hours during the government-enforced latest strict lockdown (July 23 to August 5).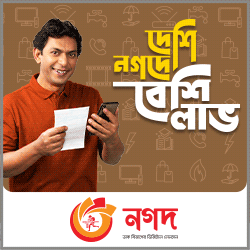 The market soared at the opening as the benchmark index of the Dhaka Stock Exchange (DSE), rose 25.59 points or 0.40 per cent to stand at 6,430 points within the first 30 minutes of trading when the report was filed at 10:30 am.
Two other indices saw an upward trend till then with the DS30 index, comprising blue chips, rose 9.12 points to reach at 2,331 and the Shariah Index (DSES) gained 3.38 points to stand at 1,391 points till then.
Turnover, another important indicator of the market, stood at Tk 2.13 billion within the first 30 minutes of trading at 10:30 am.
Market operators said the investors continued their buying interest on selective large-cap sector stocks amid growing confidence in the market as recent market momentum showed optimism.
Of the issues traded till then, 209 advanced, 70 declined and 91 remained unchanged on the DSE trading floor till then.
Saif Powertec was the most traded stock till then with shares worth Tk 290 million changing hands, closely followed by Fu-Wang Ceramic, GBB Power, BATBC, and BD Finance.
The port city bourse – the Chittagong Stock Exchange – (CSE) also saw an upbeat trend till then with CSE All Share Price Index- CASPI-gaining 60 points to stand at 18,630, also at 10:30 am.
Of the issues traded till then 65 advanced, 36 declined and 18 remained unchanged with Tk 52 million in turnover.