The banking sector topped the annual turnover chart on the premier bourse in 2017 replacing engineering, power and textile sectors riding on increased participation by general investors and sponsor-directors as well.
In the just-concluded year, the banks listed with Dhaka Stock Exchange (DSE) featured a total turnover of above Tk 492 billion and captured 22.68 per cent of the annual market turnover.
The engineering, fuel & power and textile sectors topped annual turnover chart during 2013-2016 period.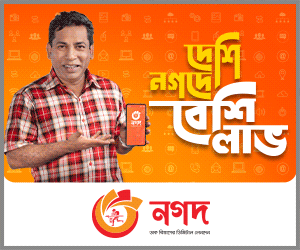 After four years, the banking sector again topped the annual turnover chart in 2017 following the rally of listed banks mainly observed since June, 2017.
Mohammad Ali, chief operating officer at Dhaka Bank Securities, said lower interest rate and banks' better dividend yield inspired investors to take position in the shares of banks.
"The dividend yield ranged between 8.0 per cent and 9.0 per cent, while dividend yield of other sectors ranged between 3.0 per cent and 4.0 per cent. That's why investors had preference to the shares of banks," Ali said.
Among other major contributors, engineering captured 12.71 per cent of annual market turnover in 2017 followed by textile 11.88 per cent, pharmaceuticals & chemicals 10.96 per cent, financial institutions 10.40 per cent and fuel & power 8.60 per cent.
During the year, the DSE featured the highest turnover since the 2010-11 stock market debacle due to multiple reasons including investors' increased participation in banking sector.
The premier bourse DSE posted a daily average turnover of Tk 8.74 billion in 2017.
The banking sector observed rally during June-September, 2017 and posted highest contribution in daily turnover.
In June last, the banking sector grabbed 14.52 per cent of market turnover worth more than Tk 101.56 billion. The banking issues grabbed 15.65 per cent of market turnover in July, 25.83 per cent in August and 40.80 per cent in September last.
The market insiders said investors' panache in the shares of banks is another reason behind record high turnover featured this sector.
Apart from general investors' panache in shares of banks, transactions of huge amount of shares were conducted by sponsor-directors.
Of the major tractions by sponsor-directors, some 38 directors of 16 banks have purchased above 33.30 million shares during July-September period of 2017, according to the DSE.
On the other hand, some 15 directors of 10 banks have sold 19.80 million shares during July-September period of 2017.
Of the listed banks, major transactions were observed in the shares of City Bank, BRAC Bank, National Bank, Islami Bank and Mercantile Bank.
The City Bank's contribution in annual market turnover was 1.97 per cent followed by BRAC Bank 1.49 per cent, Islami Bank 1.39 per cent, National Bank 1.37 per cent and Mercantile Bank 1.05 per cent.
The listed commercial banks observed remarkable un-audited operating profits riding on higher import payments, enhanced credit flow to the private sector, and significant return from their capital market investments, the bankers said.
The listed banks reported un-audited operating profits ranged between Tk 3.6 billion and Tk 22.5 billion for 2017.