Stocks rebounded strongly on Thursday with core index of the Dhaka bourse soared 1.28 per cent, powered by investors' buying spree on large-cap stocks.
The market started on positive note and the upward movement continued till end of the session.
Finally, the prime index of the major bourse closed more than 68 points higher while CSE All Share Price Index ended 138 points.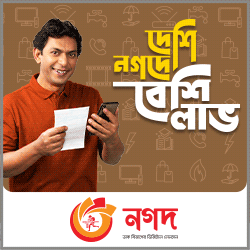 DSEX, the prime index of the Dhaka Stock Exchange (DSE), settled at 5429, after soaring 68.60 points or 1.33 per cent over the previous session.
The two other indices also ended higher. The DS30 index, comprising blue chips, advanced 26.45 points or 1.33 per cent to finish at 2,015. The DSE Shariah Index (DSES) also rose 8.48 points or 0.68 per cent to close at 1,260.
Turnover, however, remained low as the as total turnover on the DSE amounting to Tk 4.73 billion, which was 3.08 per cent lower than the previous day's Tk 4.88 billion.
The gainers took a strong lead over the losers as out of 333 issues traded, 208 closed higher, 84 closed red and 41 issues remained unchanged on the DSE trading floor.
Intraco Refueling Station topped the turnover chart with 5.31 million shares of Tk 290 million changing hands, followed by Miracle Industries, Bangladesh Steel Re-rolling Mills, BRAC Bank and Advent Pharma.
HR Textile was the day's best performer, posting a gain of 9.95 per cent while Southeast Bank was the day's worst loser, plunging by 11.69 per cent.
The port city bourse – Chittagong Stock Exchange (CSE)—also ended higher with CSE All Share Price Index – CASPI-advancing 138 points to settle at 16,749 and Selective Categories Index - CSCX -rising 86 points to finish at 10,132.
Gainers beat losers as 132 issues closed higher, 64 lower and 22 remained unchanged on the CSE.
The port city bourse traded 6.45 million shares and mutual fund units worth more than Tk 183 million in turnover.