Stocks slipped into the red on Monday, spanning the two-day gaining streak, as bearish trend continued.
DSEX, the prime index of the Dhaka Stock Exchange (DSE) went down by more than 39 points to settle at 5,417 points.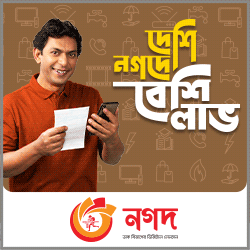 Brokers said the market opened higher, but morning buoyancy did not sustained as investors triggered late hour selling pressure.
The two other indices also ended lower. The DS30 index, comprising blue chips, fell 11.78 points finish at 2,011 and the DSE Shariah Index (DSES) lost nearly 12 points close at 1,257.
Turnover, an important indicator of the market, also and the total turnover on the DSE amounting to Tk 4.31 billion, which was 3.36 per cent lower than the previous day's Tk 4.46 billion.
Out of 337 issues traded, 224 closed lower, 70 closed red and 43 issues remained unchanged on the DSE trading floor.
Intraco Refueling Station was the day's turnover chart with shares of Tk 257 million changing hands, closely followed by Al-Arafah Islami Bank, BRAC Bank, United Power and Miracle Industries.
Queen South Textile was the day's best performer, posting a gain of 7.64 per cent while Shympur Sugar Mills was the day's worst loser, plunging by 9.52 per cent.
The Chittagong Stock Exchange (CSE) also ended lower with CSE All Share Price Index – CASPI- shedding 90 points to end at 16,742 and Selective Categories Index - CSCX –losing 54 points to finish at 10,132.
Losers beat gainers as 224 issues closed lower, 70 higher and 43 remained unchanged on the CSE.
The port city bourse traded 7.03 million shares and mutual fund units worth more than Tk 227 million in turnover.