The securities regulator has asked issuers to accelerate listing process of perpetual bonds on bourses as part of the regulatory move to diversify the country's bond market.
The Bangladesh Securities and Exchange Commission (BSEC) made the instruction in a meeting held last week at the BSEC office.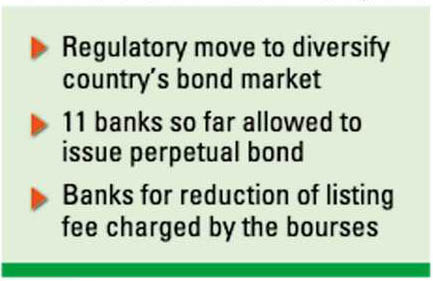 The representative of Dhaka Stock Exchange (DSE), top officials of 11 banks and trustees of perpetual bonds attended the meeting held to discuss the latest situation of such bonds so far approved by the BSEC.
"We have told other banks to complete subscription and due process of listing with the bourses as early as possible on completion of subscription," said Shaikh Shamsuddin Ahmed, a BSEC commissioner.
He said the regulator wants to make the bond market popular ensuring participation of general investors.
"The BSEC has introduced the rules of mandatory listing of perpetual bond to increase liquidity along with encouraging investors to invest in the bonds," said Mr. Ahmed.
Perpetual bonds are fixed-income securities with no maturity date and investors receive interest in the form of coupon payments.
In its directive issued in May last, the securities regulator has included a provision for subscription of 10 per cent of a perpetual bond through public offer.
And the listing of such bond will be conducted under direct listing method.
A total of 11 banks so far got the regulatory approval to issue perpetual bond to strengthen their capital bases.
Of the banks, The City Bank will issue perpetual bond worth Tk 4.0 billion, Mutual Trust Bank Tk 4.0 billion, One Bank 4.0 billion, First Security Islami Bank Tk 6.0 billion, Trust Bank Tk 4.0 billion, Social Islami Bank Tk 5.0 billion, Jamuna Bank Tk 4.0 billion, Shahjalal Islami Bank Tk 5.0 billion, Islami Bank Tk 8.0 billion, EXIM Bank Tk 6.0 billion and Southeast Bank Tk 5.0 billion.
Of these banks, Southeast Bank, Trust Bank, The City Banka and Mutual Trust Bank have completed the subscription of perpetual bonds, according to BSEC officials.
Asked, Mohammad Rezaul Karim, a BSEC spokesperson said, the BSEC called top officials of 11 banks to discuss their problems in completing listing process of perpetual bond.
"Direct listing is applicable only for state-owned companies. The BSEC has exempted the banks from this provision to facilitate the listing of their bonds with bourses," Mr. Karim said.
He said the banks have been asked to apply for listing of perpetual bonds as soon as possible.
The securities regulator earlier said that perpetual bonds issued by banks must be listed with bourses within 30 days of their subscription closure.
Khairul Bashar Abu Taher Mohammed, CEO at MTB Capital, said at the meeting the banks have made some proposals including reduction of listing fee charged by the stock exchanges.
"The BSEC has asked the banks to complete the demat of their bonds as early as possible," Mr. Mohammed said.
Asked, whether the exchange's platform is ready for listing of perpetual bond a DSE official said their platform is almost ready.