Stocks finished marginally lower for the second day in a row on Tuesday after volatile trading.
After witnessing see-saw movement, DSEX, the benchmark index of the Dhaka Stock Exchange (DSE), settled at 5,409, after shedding 7.72 points or 0.14 per cent over the previous day.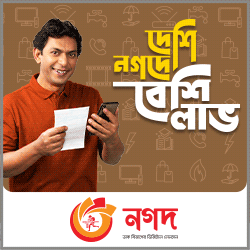 Two other indices of the premier bourse also ended lower. The DS30 index, comprising blue chips, dropped 5.38 points settle at 2,006 and the DSE Shariah Index (DSES) lost 3.54 points close at 1,254.
However, turnover, an important indicator of the market, crossed Tk 5.50 billion-mark to Tk 5.64 billion, which was more than 30 per cent higher than the previous day's Tk 4.32 billion.
The losers took a modest lead of the gainers as of the 334 issues traded, 151 closed lower, 138 higher and 45 issues remained unchanged on the DSE trading floor.
Beximco was the day's most traded stocks with shares worth Tk 315 million changing hands, closely followed by Intraco Refueling Station, Monno Ceramic Industries, Nahee Aluminum and Alif Industries.
Alif Industries was the day's best performer, posting a gain of 10 per cent while Central Insurance was the day's worst loser, shedding 8.62 per cent.
The Chittagong Stock Exchange (CSE) also finished lower with CSE All Share Price Index – CASPI- losing 39 points to end at 16,703 and Selective Categories Index - CSCX –losing 23 points to finish at 10,109.
Losers beat gainers as 122 issues closed lower, 73 higher and 34 remained unchanged on the CSE.
The port city bourse traded 6.72 million shares and mutual fund units worth more than Tk 207 million in turnover.