Stocks returned to the red territory Tuesday, after a single-session break, as investors mostly refrained from injecting fresh funds into the market.
Analysts said the ongoing pessimism coupled with disappointing earnings results kept investors mostly inactive, taking the market in the red zone further.
They said the institutional investors mostly refrained from injecting fresh funds into the market amid fund crisis ahead of national budget.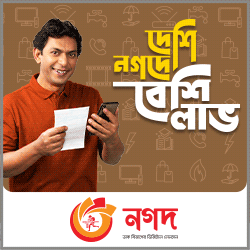 The trading started with a negative trend and the downward trend continued till end of the session with marginal volatility.
Finally, DS key ended more than 21 points lower while CSE All Share Price Index fell 36 points at closing.
DSEX, core index of Dhaka Stock Exchange (DSE), went down by 21.39 points or 0.39 per cent to settle at 5,391 points.
The two other indices also ended lower. The DS30 index, comprising blue chips, fell more than 16 points or 0.81 per cent to finish at 1,990. The DSE Shariah Index lost 5.63 points or 0.44 per cent to close at 1262.
The participation from the investors stayed shaky due to ongoing bearish trend of the market and the total turnover on the DSE amounting to Tk 4.38 billion, which was 22 per cent lower than the previous day's Tk 5.62 billion.
The losers took a strong lead over the gainers as out of 332 issues traded, 179 closed lower, 100 closed higher and 53 remained unchanged on the DSE trading floor.
Berger Paints Bangladesh topped the DSE turnover chart with shares worth nearly Tk 196 million changing hands, closely followed by Intraco Refueling Station, Al-Arafah Islami Bank and United Power.
Berger Paints was also the day's best performer, posting a gain of 42.20 per cent to close at Tk 2915.10 each following its dividend declaration of 200 per cent and 100 per cent stock dividend.
Dhaka Bank was the day's worst loser, shedding 12.19 per cent following its price adjustment after record date.
The port city bourse also closed lower with its CSE All Share Price Index – CAPSI - losing 36 points to settle at 16,651 and Selective Categories Index - CSCX – falling 22 points to finish at 10,071 points.
The losers beat the gainers as 97 issues closed lower, 81 higher and 46 remained unchanged on the CSE.
The port city bourse traded 6.39 million shares and mutual fund units worth more than Tk 254 million in turnover.