Walton Hi-Tech Industries, which made its trading debut on Wednesday, continued to soar, with its share price climbing 50 per cent-the highest allowable limit-for the second straight session on Thursday.
The local electronics giant's share price rose by 125 per cent or Tk 315 in the last two days to Tk 567 from its issue price of Tk 252.
Despite high demand from investors, Walton's share price could not go up further due to the new circuit breaker system. There were a very few sellers of the shares, leading to a halt of its trading at one point like in the previous day.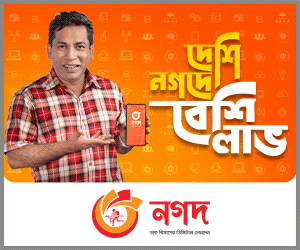 Market analysts said cautious investors continued to book profit on majors sectors' issues which saw substantial gains in the past few weeks while optimistic investors took positions on lucrative stocks.
The market edged marginally higher as sell pressure eased to some extent after Walton Hi-Tech made its trading debut, said a merchant banker.
Top positive index contributors were Marico Bangladesh, Beacon Pharma, Keya Cosmetics and Square Pharma while top negative contributors were Grameenphone, British American Tobacco, ICB and Brac Bank, according to the data of amarstock.com, a stock market data analyst.
Of the two sub-indexes, the DSE Shariah Index saw a fractional gain of 0.48 point to close at 1,126. However, the DS30 index, comprising blue chips, lost 7.28 points to finish at 1,701.
Turnover, a crucial indicator of the market, remained almost the same, clocking at Tk 8.81 billion as against Tk 8.82 billion the previous day.
Major sectors showed mixed performances. The engineering sector posted the highest gain of 20.50 per cent riding on the Walton Hi-Tech, followed by general insurance (3.70 per cent), financial institutions (0.40 per cent) and pharma sector (0.30 per cent).
On the other hand, the food & allied sector witnessed the highest correction of 1.81 per cent, followed by power (0.60 per cent), telecoms (0.50 per cent) and banking sector (0.30 per cent).
Gainers outnumbered the losers, as out of 356 issues traded, 172 closed higher, 128 ended lower while 56 issues remained unchanged on the DSE trading floor.
A total of 185,393 trades were executed in the day's trading session, with trading volume standing at 348.21 million shares and mutual fund units.
The market-cap on the premier bourse rose to Tk 3,946 billion on Thursday from Tk 3,892 billion in the previous session.
The insurance sector dominated the turnover chart. Nitol Insurance grabbed the top spot with shares worth Tk 257 million changing hands, closely followed by Beximco Pharma, Rupali Life Insurance, Rupali Insurance and Beximco.
Walton Hi-Tech Industries was the best performer, posting a gain of 50 per cent, while SEML Lecture Equity Management Fund was the worst loser, shedding 3.75 per cent.